Arch of Healing and Reconciliation (1907 Bellingham Riots)
Introduction
Erected in 2008, this monument acknowledges the often brutal treatment of nonwhite immigrants with an emphasis on three tragic events: the expulsion of Japanese immigrants in 1885, the 1907 Bellingham Riots against East Indian mill workers, and the placement of Japanese Americans in internment camps during World War II.
Images
Crowds gather at Bellingham's City Hall on September 5th, 1907, the day following the riot. The old city hall is now the Whatcom Museum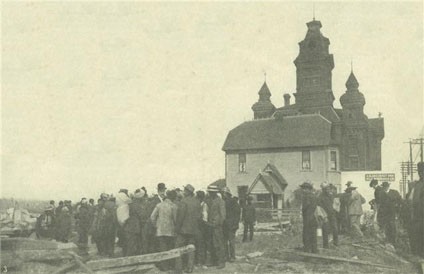 Front page of Bellingham Herald the day following the riot. Source: http://www.wce.wwu.edu/resources/AACR/documents/bellingham/main/1.htm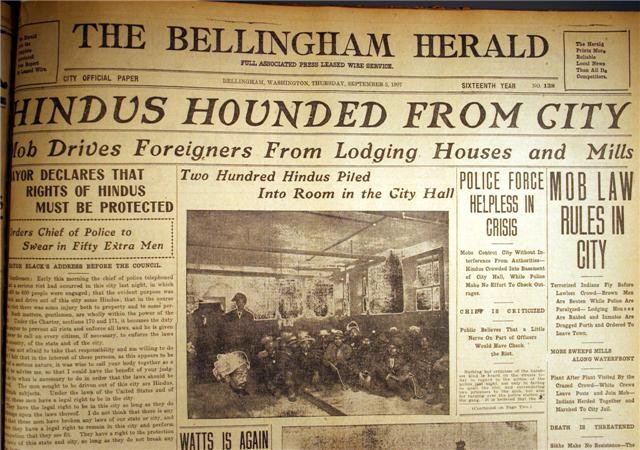 This granite monument was dedicated in 2008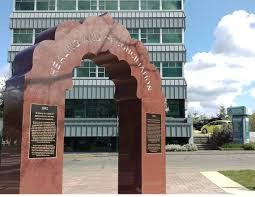 Backstory and Context
Racial tensions and job competition between white workers and recent Asian immigrants in Washington state reached a fever pitch in the fall of 1907. On September 4th of that year, approximately 500 white men in Bellingham armed themselves and vowed to South Asian workers from "their" city. They took two hundred migrants as their prisoner and placed them in the basement of the City Hall, beating any police officer that stood in their way. In the wake of this and other attacks, nearly every Asian immigrant left Bellingham. As the local newspaper celebrated, it was as if the Asian community had been "wiped off the map."
Sources
James Gregory, University of Washington Seattle. The 1907 Bellingham Riots, Seattle Civil Rights & Labor History Project. Accessed February 8th 2020. https://depts.washington.edu/civilr/bham_intro.htm.
Additional Information