Sacramento Valley Station, Formerly the Southern Pacific Depot
Introduction
Constructed in 1926, this historic railroad depot features a mural that depicts a celebratory scene of the construction of what would become the western terminus of the Transcontinental Railroad. Since 1971, the station has served Amtrak customers and remains one of the busiest American rail depots. The land where the station stands was once home to Chinese immigrants who were forced out of the area in the early 1900s.
Images
Sacramento's history is inseparable from the history of the railroad as the city served as the western terminus of the Trans-Continental Railroad. This depot was completed in 1926.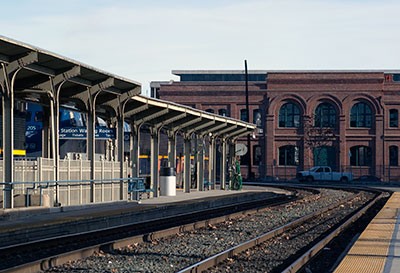 The area where the Southern Pacific Railroad depot now stands was home to a slum known as the China Slough prior to a systematic effort to remove these immigrants in the early 1900s.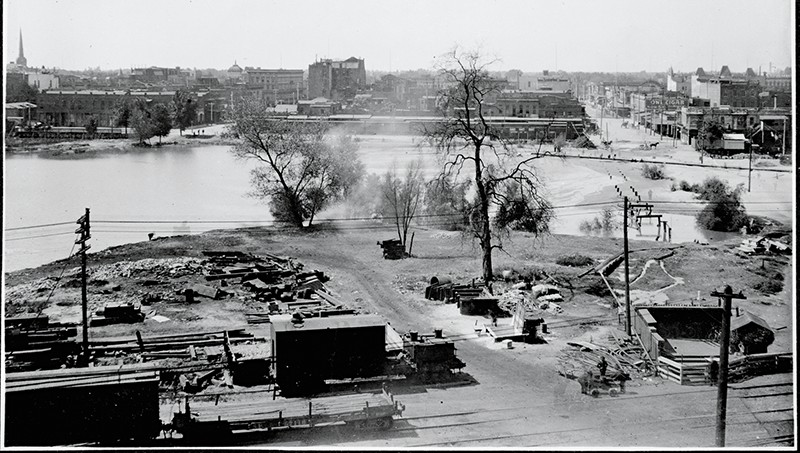 Backstory and Context
For many years, the marshy banks of Sutter Lake was occupied by many of the Chinese residents of Sacramento. It was known as China Slough and was considered by the city's white population to be a wasteland. In 1909, the city expelled the Chinese residents of China Slough, filled in the marshes, and built a railroad on the site. Though there is nothing there now to mark the area's history, the site on which the Southern Pacific Railroad depot sits was once home to many of Sacramento's Chinese. Many of them lived in shanties along I Street.

Years of dumping and neglect turned the area into an unsanitary, hazardous area. The city's white residents shunned the area and because of the racism which was prevalent at the time, the Chinese of Sacramento were relegated to building their homes there. Consequently, the area was referred to pejoratively as China Slough.

After years of complaints from residents, and concerns that the area made an unwelcoming entrance to the city, in 1909, the city forced the Chinese out of the area. In 1909, the railroad began dredging sand from the American River and filling in the swampy area. The remains of China Slough were buried and a new railroad was built. There is no marker to recognize the existence of China Slough, but the depot that now stands on the site is listed on the National Register of Historic Places.
Sources
Early Site History. City of Sacramento. Accessed August 05, 2017. https://www.cityofsacramento.org/Public-Works/Sacramento-Valley-Station/Background/Early-Site-History.


Additional Information