Alhambra Theatre Site
Introduction
In a move that launched Sacramento's preservation movement, the Alhambra Theatre was demolished in 1973 to make room for a grocery store. Today, the only remnant of the beautiful structure is a fountain.
Images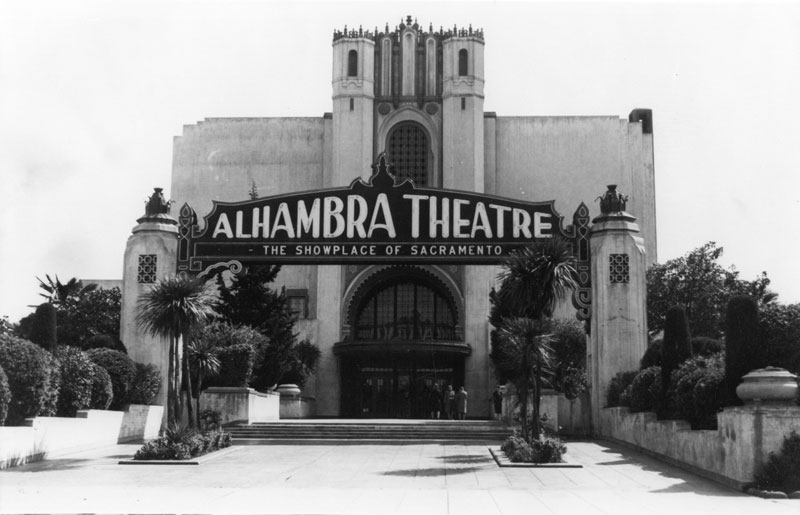 Backstory and Context
The Alhambra Theatre was built in Sacramento in 1927 in the Moorish style by the architecture firm of Nacht and Lewis Architects. Opening night was a lavish occasion that matched the theatre's grand facade. The theatre cost $1 million, and the ceremony attracted 2,000 guests and was hosted by Governor Clement Young.

As its name suggests, the Alhamabra was built as a replica of the Moorish palace near Granada, Spain. The theatre was even designed with gardens and a one-story fountain to resemble those of its namesake. The gardens were popular with locals for a pre-movie stroll and as a destination in their own right. The theatre was also equipped with the Alhambra Pipe Organ, an organ of fifteen ranks. The theatre was so opulent that the city named the adjacent street in its honor.

The Alhambra Theatre closed in 1972. A Save the Alhambra Theatre Committee was formed, but was unable to save the theatre from demolition. It was demolished in 1973 along with its gardens to make way for a Safeway grocery store. Locals were outraged by the theatre's demolition, and many felt that the destruction of the gardens simply added insult to injury. Today, the Safeway sits where the grand theatre once stood, the only reminders of its existence being the fountain and a plaque on the parking lot.

The theatre's demolition did have one positive outcome. Because the public was so opposed to its destruction, it helped to launch Sacramento's preservation movement, which remains active.
Sources
Fond Memories of the Alhambra Theatre's Gardens. Valley Community Newspapers. June 06, 2012. Accessed August 05, 2017. http://www.valcomnews.com/?p=7402.


Additional Information