Coney Island Cyclone
Introduction
Completed in 1927, the Coney Island Cyclone offered thrills to New Yorkers for $0.25 when it opened. The Cyclone replaced the Switchback Railway, which was the first roller coaster in the United States and built in 1884. The track for the ride is nearly 3000 feet, and the cart can hold up to 24 people. The length of the ride is just under two minutes. The Cyclone has experienced years of up and down success, almost closing in the '70s. However, it has survived nevertheless. In 1991, the iconic coaster was listed on the National Register of Historic Places.
Images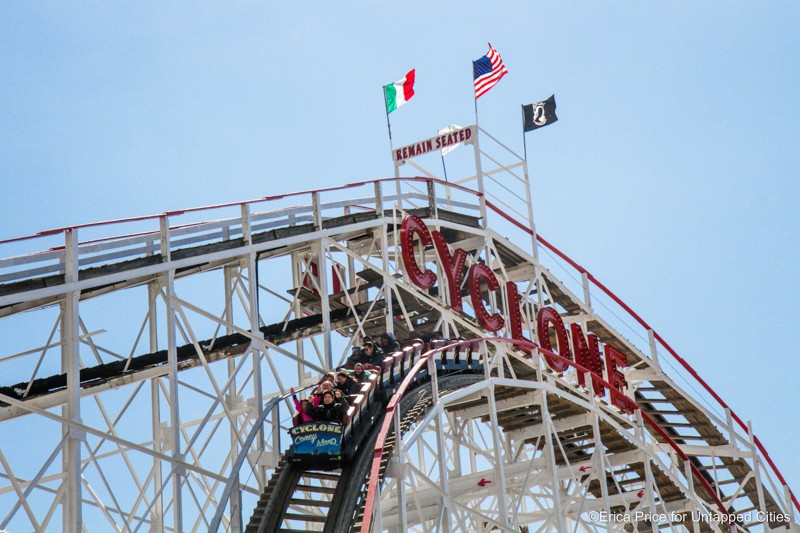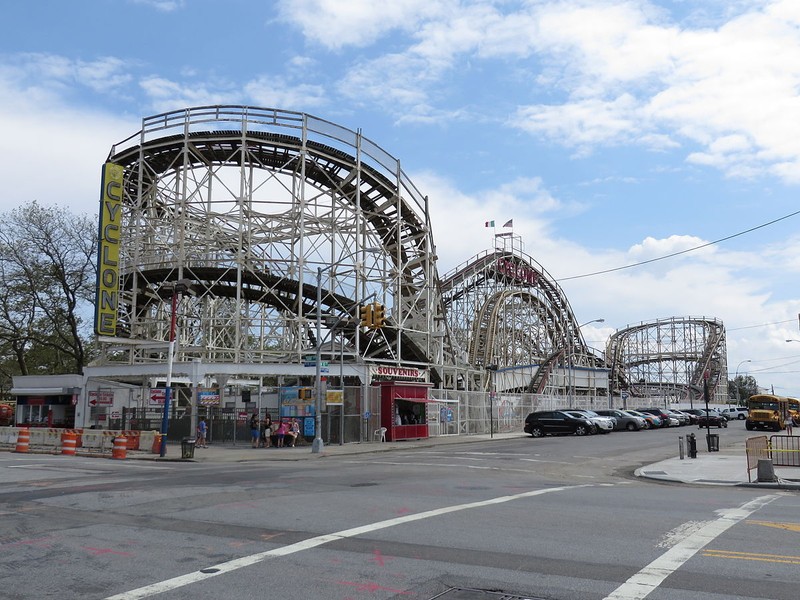 Backstory and Context
The Coney Island Cyclone is a wooden roller coaster that opened in 1927. It provided rides to paying customers for just $0.25 a person. At the time, the ride competed against two other popular roller coasters in the area, the Thunderbolt, and the Tornado. It also replaced the oldest roller coaster in the United States, the Switchback Railway, which was constructed in 1884.
When the Cyclone was completed, it was one of the largest and most talked-about roller coasters in the entire country. Its track ran nearly 3000 ft, and the ride took just under two minutes to complete. The highest drop on the ride is 85 ft, and when the ride reaches its top speed, passengers are traveling nearly 60 mph. With crowds, both local and abroad, flooding New York City, the Cyclone was a major attraction for much of the first half of the 20th century. 
The Cyclone went into decline in the 1960s, as new theme parks began to rise across the country and the demand for rides at Coney Island decreased. In 1977, the Tornado was closed down and the Thunderbolt met the same fate in the 1980s. However, the Cyclone managed to survive the downturn on Coney Island thanks to a 'Save the Cyclone' campaign launched by locals aiming to save the historic roller coaster. Their efforts worked, and the City decided to preserve and restore the ride, which still operates today. The Cyclone was named a New York City Landmark in 1988 and placed on the National Register of Historic places in 1991. 
Sources
"The Cyclone." NYC Parks. Accessed Web, 8/5/17. https://www.nycgovparks.org/parks/the-cyclone/history.
"History of the Iconic Coney Island Cyclone." NU Hotel. Accessed Web, 8/5/17. https://www.nuhotelbrooklyn.com/blog/history-iconic-coney-island-cyclone/.
Chong, Jinwoo. "Daily What?! 'The Cyclone,' Coney Island's Legendary Wooden Roller Coaster, Opened 88 Years Ago Today." Untapped Cities. 6/26/15. Accessed Web, 8/5/17. http://untappedcities.com/2015/06/26/daily-what-the-cyclone-coney-islands-legendary-wooden-roller-co....
Additional Information