Boston Women's Memorial
Introduction
Dedicated in 2003, this memorial celebrates the lives of three of the most historically significant women in American history: Abigail Adams, Lucy Stone, and Phillis Wheatley. Each of the tree women honored by the memorial faced threats and opposition but were committed to social change. The authors of poetry, essays and books, each of these three women offered contributions that demonstrate the intellectual roots of the movements against slavery and for the civil and political rights of women. Each of the three women honored are shown in poses that reflect the use of their language as writers, essayists, and poets.
Images
The Boston Women's Memorial includes statues honoring Abigail Adams, Lucy Stone, and Phillis Wheatley.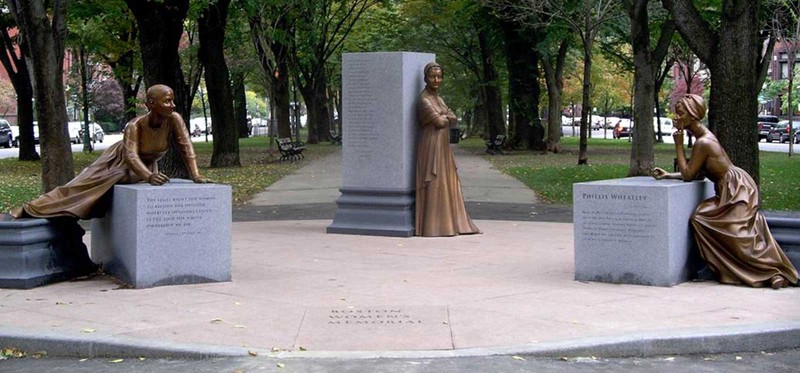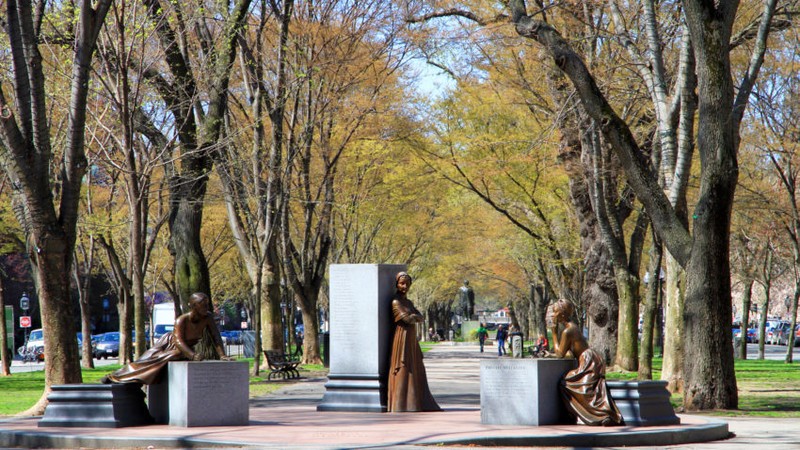 A contemporary portrait of the young Abigail Adams, who was known even during her lifetime for her strong partnership and influence with husband (and later President) John Adams.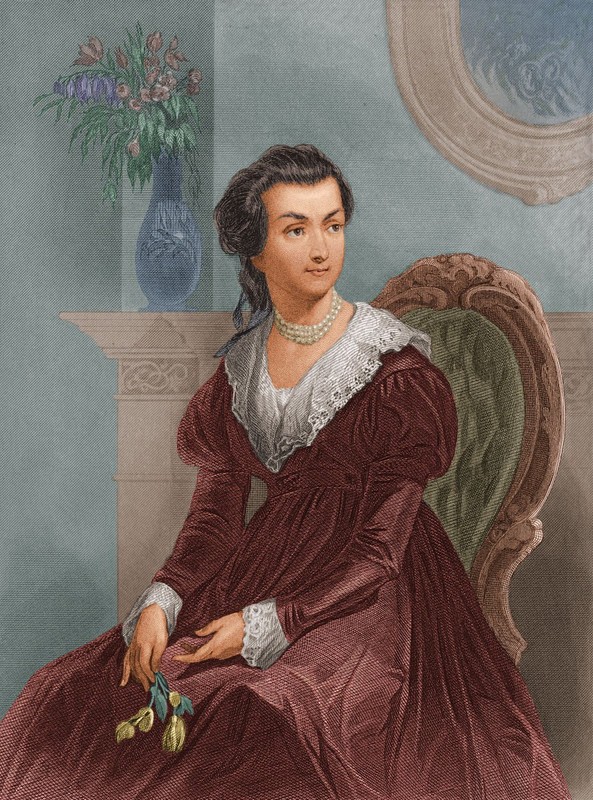 Lucy Stone, an American pioneer of women's suffrage in the 19th Century, was responsible for bringing the famed Susan B. Anthony into the suffrage movement though the two later disagreed as to the best course for the movement to take.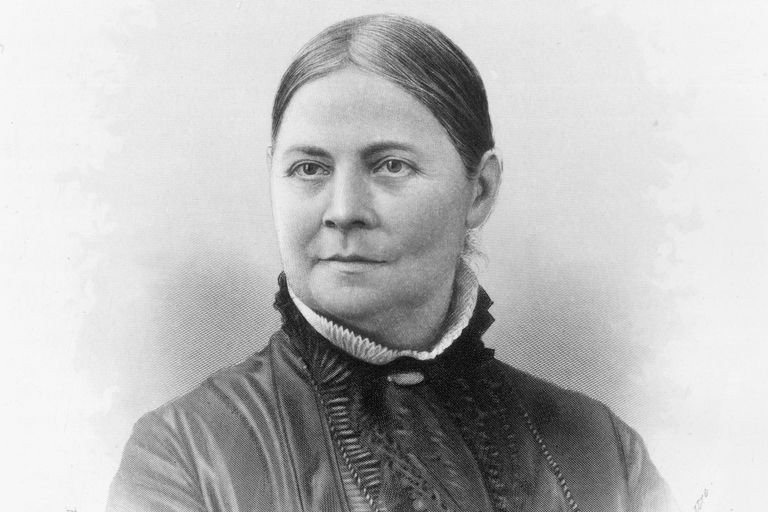 Phyllis Wheatley, a poet and slave in colonial America. The first African-American women to publish a book of poetry, she carried on a long correspondence with George Washington and even visited his headquarters in 1776.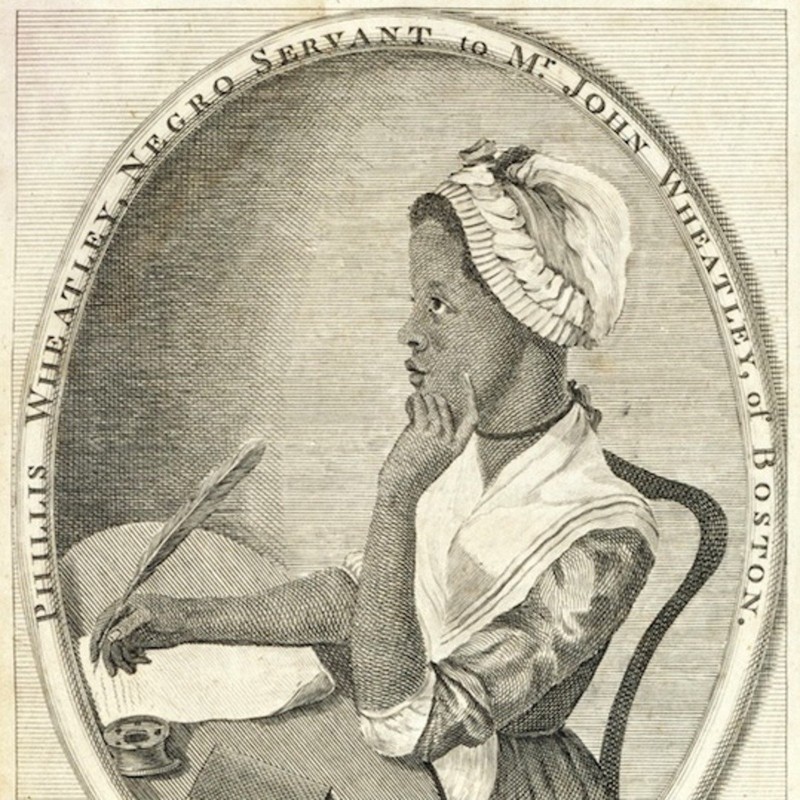 Backstory and Context
The Boston Women's Memorial is dedicated to three Boston women who helped shape the history of late 18th and 19th century. All three of these women were born in Massachusetts and/or lived in the state. Abigail Adams (1744-1818) was born in the city of Weymouth and was the wife of John Adams, the second President of the United States. In 1776, Adams wrote a letter to her husband that said that husbands should not have unlimited power and that if the ladies do not get the attention they need then they will "form a rebellion and not hold themselves bound by any laws that do not give them a voice."
Lucy Stone (1818-1893) was born in Brookfield and was one of the first women in the state to graduate college. She was a prominent abolitionist, a respected orator, and an author. Stone founded the Women's Journal, one of the leading early publications dedicated to women's rights at the time. In a speech, she gave in 1855 at the National Women's Rights Convention, Stone describes about how much of a disappointed woman she has been throughout her life. She says "It shall be the business of my life to deepen this disappointment in every woman's heart until she bows down to it no longer." Stone was also one of very few women who decided to keep her last name after marriage.
Phillis Wheatley (1753-1784) was born in West Africa and was sold as a slave. She was kidnapped from her family as a child and was shipped to colonial Boston where she was sold as property. Wheatley's experience was not typical, as she was raised by a caring Quaker family who saw to her education so long as it did not interfere with her domestic duties in their home. Wheatley demonstrated talent and became a literature prodigy who published books of poetry. In 1773, she wrote Poems on Various Subjects, Religious and Moral, which was the very first book in America to be published by an African American. One poem she wrote was about imagination, describing it as an unimaginable thing. Another poem she wrote was about her experience of being sold as a slave, saying that she'd been snatched from Africa's fancied happy seat. 
The bronze sculptures of the women, created by sculptor Meredith Gang Bergmann, were dedicated on October 25th, 2003 on the historic Commonwealth Avenue Mall in Boston. Instead of traditional statues that are set upon pedestals, the women are using the pedestals while leaning upon the blocks of granite rock beside them. This allows the statues to "invite" the people to interact with them. Bergmann modeled the statues to be this way in order to pay tribute to the women's progressive ideas.
Sources
"Boston Art Commission." Boston Women's Memorial » Public Art Boston. Accessed August 07, 2017. http://www.publicartboston.com/content/boston-womens-memorial.
"Official Web Site of the City of Boston." Boston's Women Memorial | City of Boston. Accessed August 04, 2017. https://www.cityofboston.gov/women/history/.
"The Boston Women's Memorial." Boston.gov. February 25, 2017. Accessed August 04, 2017. https://www.boston.gov/departments/womens-advancement/boston-womens-memorial.
Turchi, Megan. "People are flocking to the Boston Women's Memorial on Commonwealth Ave." Boston.com. November 08, 2016. Accessed August 06, 2017. https://www.boston.com/culture/politics/2016/11/08/people-are-visiting-the-boston-womens-memorial-on....
Additional Information