Atlantic Beach Town Hall and Historical Marker
Introduction
Established in 1934 by Gullah-Geechee descendants of slaves, Atlantic Beach flourished as a vacation spot for African Americans in the era of segregation. The town was known as "The Black Pearl" among African American tourists and was home to many families who had descended from former slaves who settled along the coast after moving from plantations and cities such as Wilmington following episodes of racial violence in the late 19th century. The beach's location between Myrtle Beach and North Myrtle Beach gave African American middle class families the opportunity to enjoy ocean views and a beach vacation while the significance of a Black-owned beach town inspired similar business endeavors throughout the United States.
Images
This historical marker was dedicated in 2005 and is located just outside of the town hall.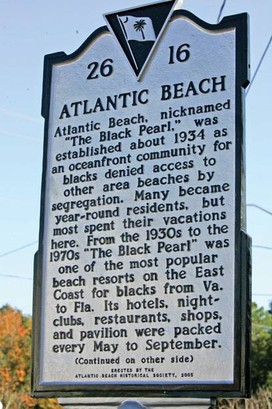 Atlantic Beach was a haven for Black families and tourists during the era of racial segregation.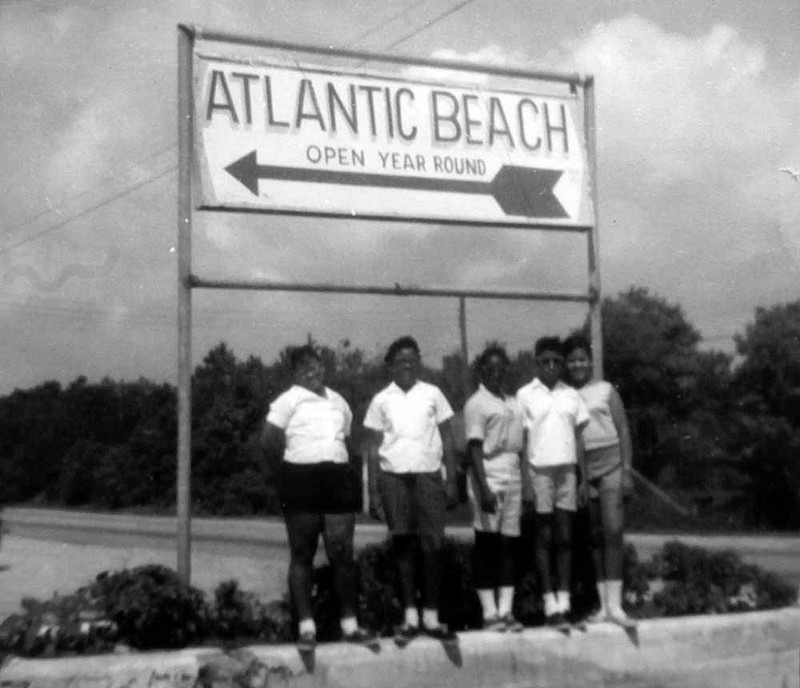 Backstory and Context
Atlantic Beach earned the nickname "Black Pearl" because of its growth in the 1930s and 1940s and its rich history, as all of the businesses in the community were owned by African Americans. The town was filled with hotels, restaurants, night clubs, and gift shops that were owned and catered to African Americans, an important alternative to racial discrimination or complete exclusion at white-owned businesses during the Jim Crow era. Along with a handful of Black beach resorts created in later years, Atlantic Beach was one of the few places where Black families could enjoy a dignified vacation without encountering segregation.
The beach was formed in 1934 by George W. Tyson, an entrepreneur who already owned several businesses in Conway, South Carolina that catered to the African American community. Tyson reached out to R. V. Ward, one of his few white business connections, to secure a deal that allowed him to purchase some of this land along the beach in Horry County. Ward sold Tyson 47 acres of his property for the sum of $2,000. The Black Hawk Night club, built by Tyson, was one of the businesses that became very popular as an entertainment venue for African Americans who lived in the region or came to Atlantic Beach for vacation.
Tyson soon began to encourage other African Americans to purchase plots near his land and develop businesses. In March of 1936, ten plots were purchased by other African Americans and Tyson purchased 49 more acres close to his original property soon after. The buyers and developers' occupations ranged from doctors to factory workers, and many of the buyers were from Gullah-Geechee decedents who brought their distinct culture to the oceanfront. During the 1940's-1950's "the Black Pearl" experienced major growth. Hotels, restaurants, and banks increased along with vacationers.
In 1954, hurricane Hazel hit the shores of Atlantic Beach and demolished several buildings. Some of the buildings were rebuilt in hopes of revitalization of the beach. With frequent tourists, it seemed the beach town would recover after the hurricane but the gradual end of segregation led many African Americans to consider other vacation spots. These two events, the destruction of the hurricane and the gradual end of Jim Crow lead to a decline in investment and tourism at Atlantic Beach.
Today, Atlantic Beach remains one of the few African American owned beach communities. In 2016, the Town of Atlantic Beach celebrated its 50th anniversary as an independent incorporated town. Although the beach continues to struggle, residents of "The Black Pearl" are confident that their city will grow by attracting tourists that would value the city's diversity and history.
Sources
Stephens, Ronald J. Atlantic Beach. BlackPast.org. Accessed August 04, 2017. http://www.Blackpast.org/aah/atlantic-beach-south-carolina-1966.

Gibson, Jamesha. Atlantic Beach: Historic African-American Enclave in South Carolina. March 12, 2015. Accessed August 04, 2017. https://savingplaces.org/stories/atlantic-beach-historic-african-american-enclave-in-south-carolina#.WYSG7vnyuUk.

Moredock, Will. Atlantic Beach once thrived as S.C.'s only Black-friendly beach, now home to dreaded Black Bike Week. Charleston City Paper. September 14, 2014. Accessed August 04, 2017. https://www.charlestoncitypaper.com/charleston/atlantic-beach-once-thrived-as-the-states-only-Black-friendly-beach-but-today-its-home-to-the-dreaded-Black-bike-week/Content?oid=4989944.


Additional Information