White Hall State Historic Site, home of Cassius Marcellus Clay
Introduction
White Hall Historic Site was once the home of Cassius Marcellus Clay, a man who grew up in a wealthy slave-owning family but went on to be an outspoken advocate of emancipation. A member of the famous Clay family of Kentucky, Cassius Marcellus Clay was also a politician in addition to a newspaper publisher. Clay also served as the American ambassador to Russia and was a personal friend of Abraham Lincoln. Clay served two terms in the Kentucky House of Representatives, helped establish the Republican party in Kentucky, and published his own anti-slavery newspaper, the True American. His opposition to slavery cost his fortune and earned many enemies. It nearly cost his life as well, as a pro-slavery advocate attempted to assassinate the leading Southern anti-slavery spokesman in 1843. Vistors can tour the historic Clay home, complete with 1860s era furnishings that were originally part of the Clay estate. The tour details the history of the Clay family and discusses the lives of the free and enslaved African Americans in Kentucky as well as the history of slavery and actions of abolitionists such as Clay.
Images
White Hall is a state historical landmark and has become increasingly well-known given Cassius Clay's stance against slavery.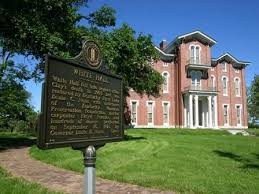 Clay served in the Mexican American War as captain of the First Kentucky Cavalry and was appointed as Minister to Russia by Abraham Lincoln, before the onset of the Civil War.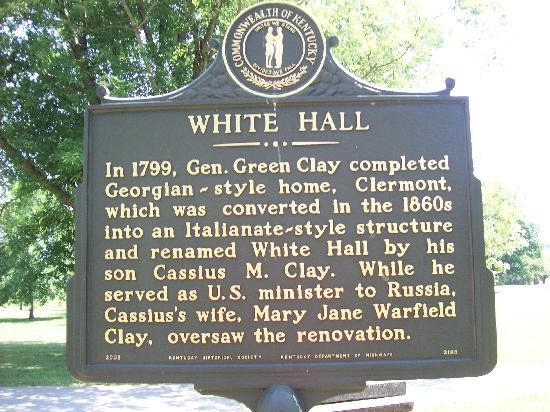 Backstory and Context
Cassius Marcellus Clay's political career included numerous honors and appointments, but he is best remembered for his fearless advocacy for the immediate abolition of slavery despite living in a slave state and coming from a wealthy slave-owning family. Clay did not allow the disapproval of his neighbors and peers deter his campaign for the end of slavery. In 1835 and 1837, Clay served in the Kentucky House of Representatives despite widespread opposition to his abolitionist philosophy. During a political debate in 1843, Clay was shot in the chest by a hired gunman. Clay survived the attempt on his life, and this experience did not deter Clay from his advocating an end to slavery in Kentucky or elsewhere.
In 1845, Clay began publishing his own anti-slavery newspaper, The True American, in Lexington. After a mob of sixty men who called themselves the "Committee of Sixty," attacked Clay's printing press in an attempt to quiet him. In response, he moved the publishing office to Cincinnati. Clay later went on to serve in the military during the Mexican American War from 1846 to 1848, where he served as captain of the First Kentucky Cavalry. After the war, he donated both land and money in 1853 to help establish the first integrated college in the south, Berea College.
Clay was a supporter of Abraham Lincoln on his campaign and helped defend the White House against Confederate attack during the onset of the Civil War. Lincoln later appointed Clay ambassador to Russia, where he served until 1869 and was influential in the negotiations surrounding the purchase of Alaska. In 1862, Lincoln called Clay back to the United States to accept a commission as major general in the Union Army. Clay denied the position unless Lincoln agreed to emancipate all slaves under Confederate control; later in the year, the Emancipation Proclamation was enacted.
Sources
Richardson, H. Edward. Cassius Marcellus Clay: Firebrand of Freedom. Lexington. University Press of Kentucky, 2015.

White Hall. Kentucky State Parks. Accessed August 03, 2017. http://parks.ky.gov/parks/historicsites/white-hall/things_to_do.aspx.

Cassius Marcellus Clay. Biography.com. February 29, 2016. Accessed August 03, 2017. https://www.biography.com/people/cassius-marcellus-clay-9250370.

Additional Information