Milam's House Historic Marker
Introduction
This historical marker denotes the former home of J.W. Milam, one of two men who murdered the fourteen-year-old Emmett Till in 1955. J.W.Milam assisted his brother in law, Roy Bryant in the kidnapping and murder of Emmett Till near Money, Mississippi. Milam and Bryant were never convicted of Till's murder, but after their court case both admitted to their crimes and faced no legal action. This historic marker serves as a reminder of the violence of white supremacy and how in 1955, white men could very literally get away with the murder of an African American man, woman, or child.
Images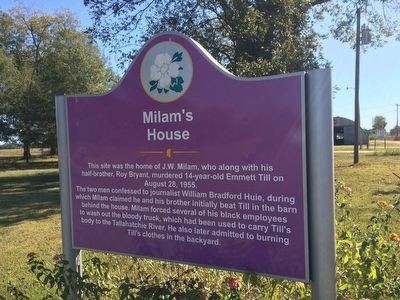 Backstory and Context
A young boy named Emmet Till entered Bryant's Grocery & Meat Market on August 21, 1955. Emmet was from Chicago and was on a trip to visit relatives near Money, Mississippi, where the emotions towards African Americans were very different than those of northern states. After displaying a photograph of a white girl he claimed was his girlfriend to his friends while skipping church, Emmet's friends dared him to approach Mrs. Bryant who was alone at the store on the day of the incident. While no one knows for sure what occurred in the store while Emmet talked to Mrs. Bryant, the events that transpired soon after displayed negative emotions about racial interaction in the south. Later that night, Mr. Bryant and his brother-in-law John William Milan kidnapped Emmet from his relative's home and subjected him to torture.
The two men beat Emmet Till until his body was horribly mutilated, then proceeded to shoot him and strike his body with an axe. To hide Till's body they weighed him down with a 70-pound fan and left his unrecognizable corpse in the Tallahatchie River. A few days after his abduction two young boys discovered Till's body and reported it to local authorities. While the two men did face a trial, they were found not guilty and only admitted to murdering Till after their verdict was given. Emmet's mother demanded her son's casket remain open so the nation could see what two white men had done to her 14-year-old son. Emmet's funeral gained national recognition and a drew a large crowd of supporters who wanted justice for Emmet and his family.
Behind Milam's house stood the barn where the two men say they beat Till and mutilated his body beyond recognition. Milam also stated that Till's clothes had been burned in his back yard after the body had been disposed of. Although the house is no longer standing, the marker serves as a reminder of the history of white supremacy and how it led to violence and atrocious crimes.
Additional Information