The Manderfield Mausoleum
Introduction
Located within the historic Rosario Cemetery of Santa Fe, stands the elegant 1888 mausoleum, dedicated to hold the remains of one of the city's prominent citizens, William Mandefield. A Pennsylvania native, Manderfield moved to New Mexico after many stops on his way here to build upon his skills as a printer. Starting a floor man of the Santa Fe New Mexican newspaper, Manderfield would eventually own the paper. Mandefield was also dedicated to local politics, horticulture, and education. He was also a major voice in favor of the Union during the Civil War and as Confederate forces took over much of what is now New Mexico. He was honored throughout the city following his death in 1888. This mausoleum was almost destroyed in 1979 by way of demolition before city residents and the Historic Santa Fe Foundation helped repair and preserve it, allowing to stay standing to this day.
Images
Sketch of William Manderfield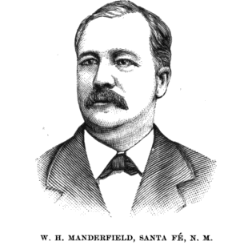 Manderfield Mausoleum as seen today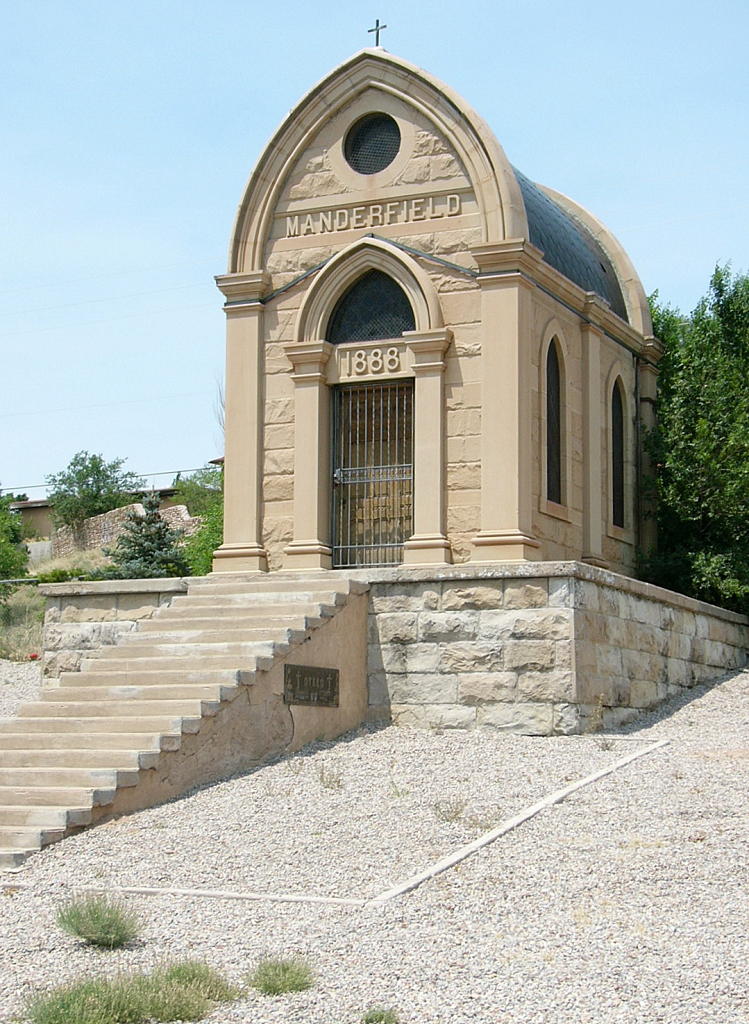 Another image of the mausoleum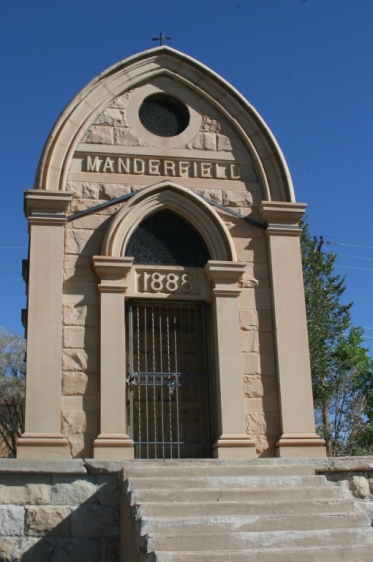 Backstory and Context
From the Historic Santa Fe Foundation:
"One of Santa Fe's leading nineteenth-century newspapermen, William H. Manderfield, was born in Berks County, Pennsylvania, June 16, 1841. As a young man he became a printer and subsequently made his way west, plying his trade at various locations in Illinois, Missouri, and Colorado before coming to Santa Fe. Here he found employment as shop foreman on The Santa Fe New Mexican, then a four-page weekly half in English and half in Spanish, Soon after his arrival in 1863, Manderfield purchased the paper from Charles P. Clever, and the following year he formed a management partnership with Thomas S. Tucker. Although plagued by delinquent subscribers and an untrained workforce, together they made this newspaper one of the Southwest's leading journals. It championed the cause of the Union, the "Santa Fe Ring," and free public schools.
On October 1870, both Tucker and Manderfield were married to daughters of well-known Santa Fe families in ceremonies conducted by Bishop Jean Baptiste Lamy. Tucker's bride was María Trinidad Ortiz; Manderfield wed Josefa Salazar.
In 1881 The Santa Fe New Mexican was sold to E. B, Purcell of Manhattan, Kansas. This permitted Manderfield to devote his time to horticulture and local politics.
Upon Manderfield's death seven years later, a handsome mausoleum was erected in Rosario Cemetery. Constructed of dressed sandstone and embellished with squared pillars and stained glass windows, it remains today as a monument to this pioneer editor and his family. Threatened with demolition in 1979 because of vandalism, the structure has been stabilized and protected by The Historic Santa Fe Foundation."
Additional Information