Prospect Place (Trinway Mansion)
Introduction
Prospect Place is a historic mansion built for George W. Willison, an abolitionist who used this property as a safe house for runaway slaves who were traveling north in hopes of permanent freedom in Canada. The mansion was built in 1856 and is the last remaining mansion of the antebellum era in the Dresden area. Today the historic property is being restored by George W. Adams' great-great grandson, George J. Adams. It is also home to the G.W. Adams Educational Center, which is a historical and educational resource center for the southeastern Ohio area. They provide educational activities and seminars which relate to the 19th century about anything from the rail road to Underground Railroad and Civil Rights in America.
Images
An 1850's era drawing of Prospect Place.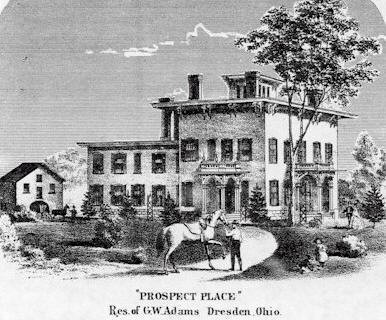 Prospect Place as it looked in the 1940's.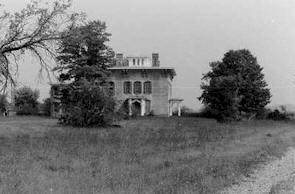 Prospect Place as it looked in 2003.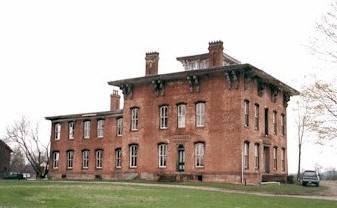 Backstory and Context
George Adams grew up in Virginia on his family's plantation. After his father died, Adams sold the plantation, freed the slaves who lived there, and moved to Ohio. George and his brother, Edward, supported runaway slaves in Ohio via a network of safe house in the area. The house and other properties in the area such as warehouses, a flour mill, and a boat yard owned by the Adams family were used to help hide and shelter runaway slaves.
What stands today is a 29-room mansion that started out as a small two-story frame house. The building style is classified as Greek revival architecture. This is the second house to stand on the same foundation as the first was burnt to the ground soon after its completion in 1856. The mansion was rebuilt with modern fire stopping added to it. The interior walls of the current house are solid brick, and there is a two-inch layer of mortar between the first and second floors of the house to block fire.
The Fugitive Slave Act of 1850 made it legal for bounty hunters to capture runaway slaves in Ohio and return them to the South. It was also illegal to harbor slaves. Family legend has it that the ranch hands followed a bounty hunter and brought him back to the property and hung him in the barn. He had come to the house, demanding that George release the slaves to him when his ranch hands came to his aid.
Sources
History of Prospect Place. G. W. Adams Educational Center. http://www.gwacenter.org/index.html.


Additional Information