Ashland Company Store
Introduction
The Ashland Company Store is located in the unincorporated town of Ashland, West Virginia. The former company store was a gathering place for the community and sold food, clothing, and other goods to miners and their families. The Ashland Company Store is listed on the National Register of Historic Places.
Images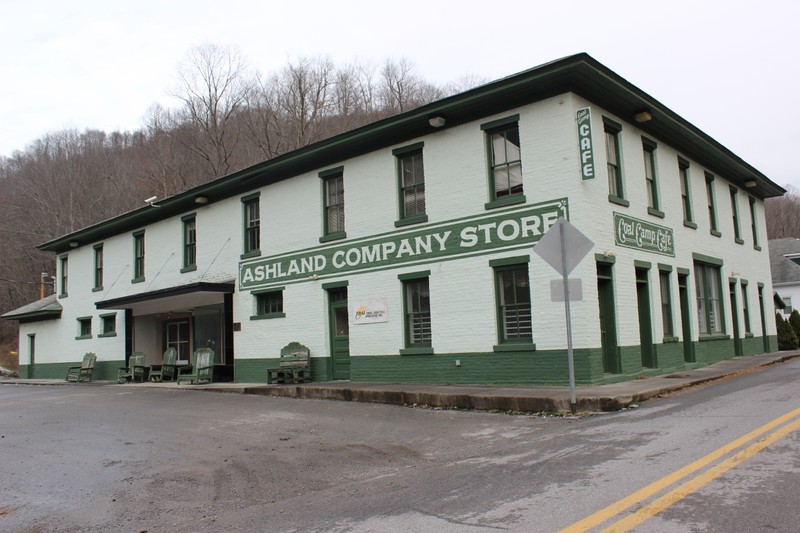 Backstory and Context
The Ashland Coal and Coke Company owned and operated the Ashland Company Store. This coal company was formed by entrepreneurs from the Pennsylvania anthracite fields. W. J. Richards, chief engineer of the Lehigh and Wilkes-Barre Coal Company, secured a lease from E. W. Clark and trustees of the Flat Top Land Corporation. In 1907, they began constructing the company town.1

The town of Ashland was named after the Ashland Coal Company in Ashland, Pennsylvania. This town had an inn, two schools, two churches, company store, warehouse, and post office. Miners working for the coal company lived in company-owned housing and were paid in scrip.

The original company store was located across the street and served as a social hall and inn. In 1943, the company store caught fire and the present building was converted from a warehouse into a company store.2 It housed the paymaster's office, post office, company offices, and store. Company stores carried everything coal miners and their families could need or want: food, clothing, fabric, toys, weapons, and tools. They would pay for their purchases with scrip. The Ashland Company Store was also a gathering place for residents of Ashland.

Sources
1Rasmussen, Barbara E. "Ashland Company Store" National Register of Historic Places Nomination Form, http://services.wvgis.wvu.edu/SHPOdocs/PDFs/NationalRegister/05000399.pdf, Accessed 1 August 2017.

2 "Ashland Company Store." National Coal Heritage Area, http://www.coalheritage.org/page.aspx?id=45, Accessed 1 August 2017.



Additional Information