Petroleum Industry Park
Introduction
This site has the notable distinction of being where the state's oil industry began. On the morning of June 9, 1894, a water well company struck what would become the first oil well in Corsicana. Eventually, as other wells were built, the site would become the first large oil field west of the Mississippi River, although this fact is largely unknown as later oil fields would be bigger. The discovery was significant because it served as the catalyst for Texas' petroleum industry. The site is also important because it was here that the rotary rig was perfected, allowing for the more efficient drilling of oil. The industry still uses this type of rig today. The well site is now part of Petroleum Industry Park, which features historical markers, a drilling tower, and two pipes - one indicates the the location of the water well that struck oil, and the other indicates the location of the first successful commercial well.
Images
The drilling tower at the park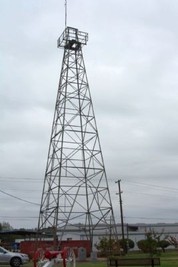 The two wells, the blue one marks the location of the water water well, and the Black the location of the first successful oil well.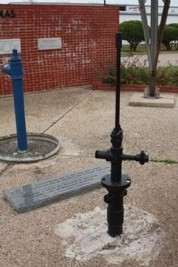 Backstory and Context
As Corsicana's population grew so did the need for water. This is what prompted the city to hire the contractor to search for water and is ultimately why oil was discovered. Oil was struck just over a 1,000 feet down. Initially, the contractor was annoyed that the oil well could not be plugged, but this demonstrated to the city that the site had potential for oil development, which it of course did. A refinery was eventually built in 1896 so that oil could be exported.
Sources
"The Birthplace of the Petroleum Industry." The Historical Marker Database. Accessed August 1, 2017. https://www.hmdb.org/marker.asp?marker=60000.

"First Commercial Oil Discovery in Texas." The Historical Marker Database. Accessed August 1, 2017. https://www.hmdb.org/marker.asp?marker=60868.

Hutchison, Paul D. "Corsicana Oil Field Discovery Well." National Park Service - National Register of Historic Places Nomination Form. August 22, 1997. https://atlas.thc.state.tx.us/NR/pdfs/77001462/77001462.pdf.

Photos: Mike Stroud, via the Historical Marker Database