Old Tavern
Introduction
One of the last vestiges of Sacramento's Wild West history is the Old Tavern, which has operated in downtown Sacramento since 1849 or 1850. The original structure on the site was likely built by John Sutter, and over its long history, the Old Tavern has operated in many capacities, but remains little different than it appeared by the late 1800s.
Images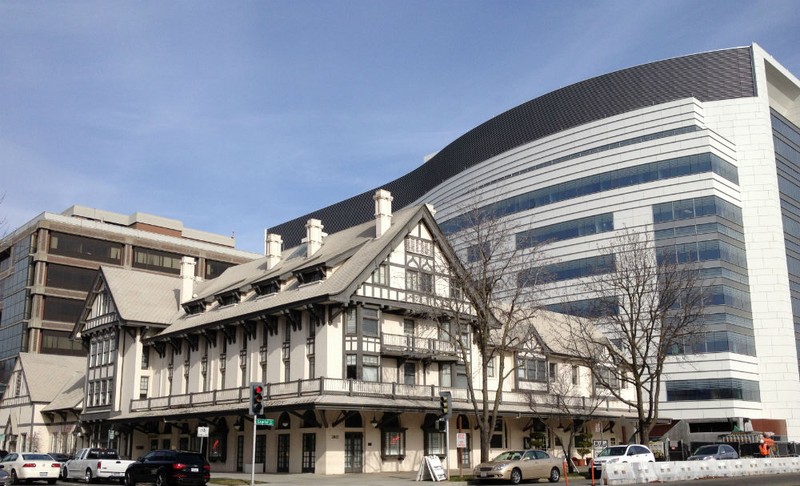 Backstory and Context
Against the backdrop of modern, downtown Sacramento is one strikingly out-of-place structure: the Old Tavern. The establishment has existed, in some capacity, for more than a century and a half.

The original structure was built in 1849 or 1850 and was a comparatively simple structure that functioned as a warehouse and distillery for Sutter's Fort, which is across the street. The original structure was likely built by John Sutter. In its earliest years, the tavern was a regular stagecoach stop. A few years later, Philip Scheld purchased the building, added a second floor, and turned it into Scheld's Sacramento Brewery, which operated until 1917.

In the 1920s, the building was further modified by giving it the English Revival facade that it has today. At that time, there was a tavern on the first floor and apartments on the second. In the years since, the building has housed a number of businesses, including a data processing center, restaurants, and medical offices.

Virtually all of the Old Tavern's mid-nineteenth century counterparts have been lost or demolished over the years. Though modified on several occasions, the Old Tavern is one of the last remaining downtown structures that date from the early history of the city. The building was listed on the National Register of Historic Places in 1982.
Sources
Zavoral, Gary. Old West Meets Modern Hospital. sutterdistrict.org. February 27, 2014. Accessed July 30, 2017. http://www.sutterdistrict.org/2014/02/27/old-west-meets-new-hospital/.