Ninth & Broadway
Introduction
Built in 1930, Claud Beelman's Ninth and Broadway Building features an incredible two-story high entrance. Above that stands another eleven-stories of steel reinforced-concrete coated in a tan-colored terra cotta texture which resembles stone. Retail shops currently operate on the ground floor level. It was designed by architect Claude Beelman in the Art Deco/Zig-zag Moderne style, with an emphasis on the vertical aspects.
Images
A Black and white shot of the Building.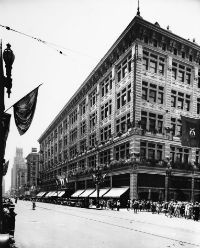 Backstory and Context
Prolific American Architect Claud W. Beelman, who was also known as Claude Beelamn, was born in 1883. He designed many Beaux-Arts, Art Deco, and Streamline Moderne buildings in California with a handful of them appearing on the National Register of Historic Places. He was married to Lourene Taft Beelman. In 1910, he became a draftsman in the state of Indiana. It was there that he and his wife had a daughter, Helen Beelman. By the 1920s, the family had relocated to Los Angeles, and by 1930, they lived in Beverly Hills.
From the 1920s on, Beelman was the partner or owner of several construction firms including Curlett & Beelman, Allison & Allison, Ruck & Beelman, and Claud Beelman & Associates. He designed a number of prominent civic and private structures over his long and fruitful career. He was still working in his seventies when he designed the 12-story Superior Oil building for oil tycoon W.M. Keck. Completed in 1955, the Superior Oil building later became The Bank of California Building and was used for the bank's offices until the 1980s.
Beelman was responsible for an incredible amount of buildings across California with many of them making an appearance on the National Register of Historic Places.
Board of Trade Building
Culver Hotel
Building at 816 South Grand Avenue
Cooper Arms
Eastern Columbia Building
Garfield Building
Heinsbergen Decorating Company Building
Norwalk Memorial Hospital
Pacific Electric Building
Roosevelt Building
Security Building (Arizona)
Spring Street Realty Building
Superior Oil Company Building
U.S. Post Office at Hollywood Station
Woodbury University
Barkers Bros Building
Central Plaza Building
Park Plaza Hotel
Harbour building
Irving Thalberg Building
L.A. Jewelry Center
Mary Pickford Center for Motion Picture Studies
May Company Garage
Mercury Building
Rose Hill Housing Structure
Security Pacific Bank
The Talmadge
Sources
Ninth and Broadway Building. LA Conservancy. Accessed July 30, 2017. https://www.laconservancy.org/locations/ninth-and-broadway-building.

Claud Beelman. LA Conservancy. Accessed July 30, 2017. https://www.laconservancy.org/locations/ninth-and-broadway-building.