Oviatt Building
Introduction
Completed in 1928, this monumental building was constructed as the headquarters of one of the most prestigious and expensive haberdasheries of the time, Alexander & Oviatt. The building housed their shop, which is now Cicada restaurant, rentable office space, and a penthouse suite for owner James Oviatt to live in. The building was designed in the Italian Romanesque style after Oviatt attended the 1925 Paris Exposition and was inspired by the architecture there. When the building was completed, the sheltered lobby forecourt contained over thirty tons of glass by designer Rene Lalique, and a few original panels remain to this day. The ten-room penthouse was originally decorated by the Parisian design firm of Saddler et fils and featured burled mahogany furniture and cabinets, parquet wood floors in geometric patterns, carved woodwork, imported fabrics and Lalique glass throughout.
Images
A shot of the building as it stands today.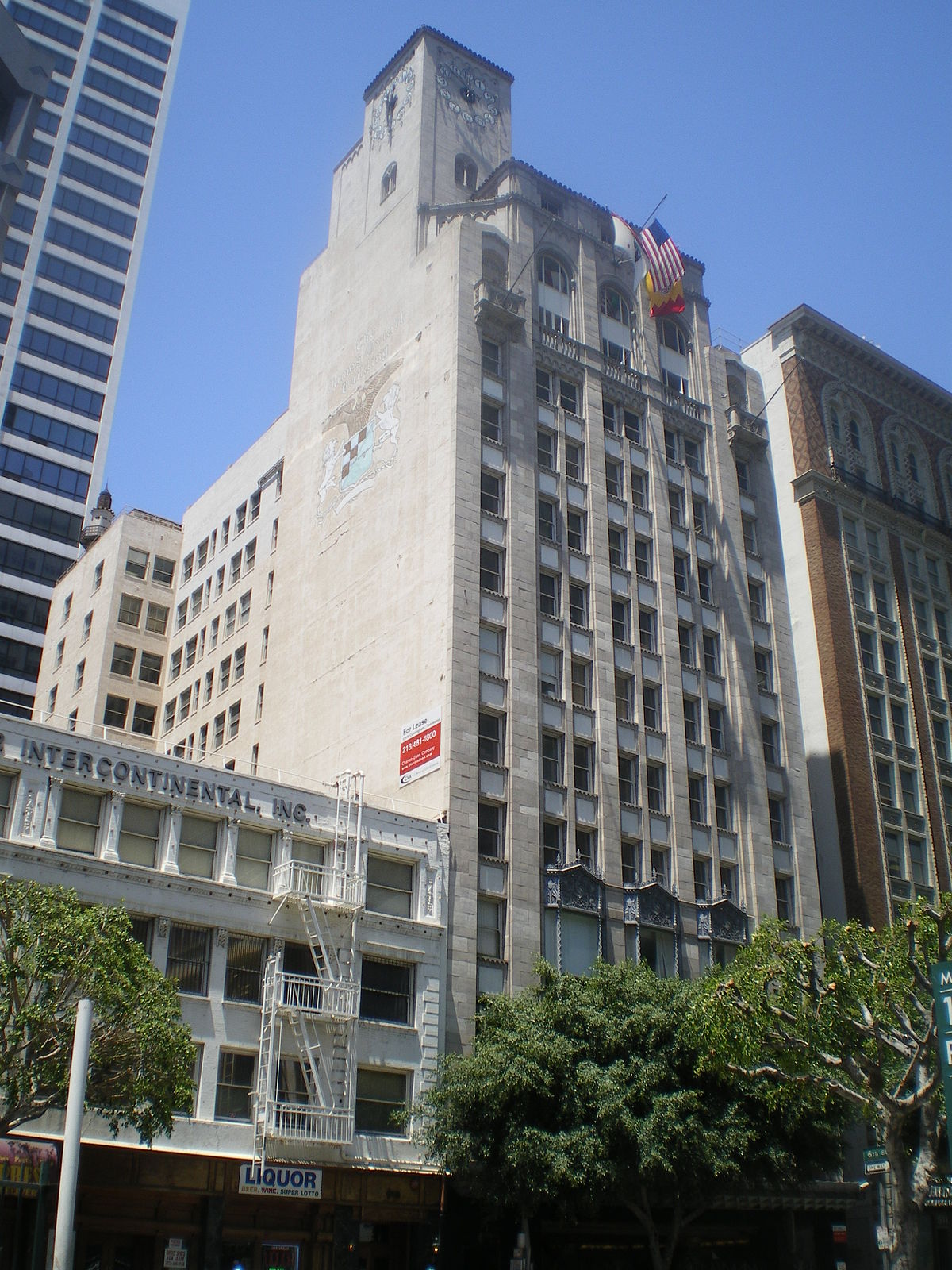 A shot of the interior from the lobby area.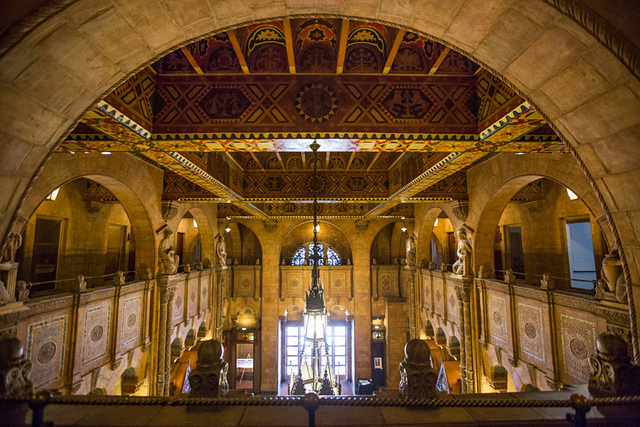 Backstory and Context
The building's full name is the James Oviatt Building, although it is commonly referred to as the Oviatt Building. The Art Deco building was listed on the National Register of Historic Places in 1983 and has also been designated as a Los Angeles Historic Cultural Monument. It is named after its original owner, James Zera Oviatt, who was born in Farmington, Utah in 1888.
In 1909, James Oviatt came from Salt Lake City to Los Angeles to work as a window dresser at C.C. Desmond's Department Store. In 1912, Mr. Oviatt and a colleague, hat salesman Frank Baird Alexander, launched their partnership in men's clothing as the Alexander & Oviatt haberdashery, located at 209 West Fourth Street in downtown Los Angeles. Their 'silent partner' was Frank Shaver Allen, a prominent and wealthy architect whose career had been destroyed by a sex scandal several years earlier.
During annual summer buying trips to Europe, Oviatt found stylish clothing to bring back to his prospering Los Angeles store. With the emergence of French Art Deco in the 1920s, Mr. Oviatt found the architectural style that would embody the interior design of his 1928 building and penthouse. The Oviatt Building was designed by the Los Angeles architectural firm of Walker & Eisen and construction began in August 1927. The building was completed in May 1928 with lavish furnishings including a 12-ton illuminated glass cornice and glass arcade ceiling by architect Ferdinand Chanut and glassmaker Gaëtan Jeannin.
Today, Cicada Restaurant is located in the huge, ornate Art Deco space on the building's ground floor and upstairs mezzanine. And on most Sunday nights, the restaurant converts into a 1920s-'30s style nightclub, Maxwell DeMille's Cicada Club, complete with live bands/orchestras, singers, and dance floor. A feature-length documentary on the Oviatt Building's history was directed by Seth Shulman and written/produced by Marc Chevalier in 2008. In 2015, the exterior of the Cicada was used as the exterior for the fictional Hotel Cortez on American Horror Story.
Sources
Oviatt Building. LA Conservancy. Accessed July 30, 2017. https://www.laconservancy.org/locations/oviatt-building.

Harnisch, Larry. Forgotten by time, but not out of style. LA Times. August 09, 2012. Accessed July 30, 2017. http://articles.latimes.com/2012/aug/09/local/la-me-harnisch-chevalier-20120809.

Mears, Hadley. The James Oviatt Building: The Bespoke Brilliance and Pretension Behind an Art Deco Masterpiece. KCET. September 06, 2013. Accessed July 30, 2017. https://www.kcet.org/history-society/the-james-oviatt-building-the-bespoke-brilliance-and-pretension-behind-an-art-deco.

No. 195 - Oviatt Building. Big Orange Landmarks. November 01, 2008. Accessed July 30, 2017. http://bigorangelandmarks.blogspot.co.uk/2008/11/no-195-oviatt-building.html.

James Oviatt Building BEST ART DECO (1928). LA Weekly. Accessed July 30, 2017. http://www.laweekly.com/best-of/2010/people-and-places/best-art-deco-1928-2202402.


Additional Information