Caesar Rodney Statue (1923-2021)
Introduction
Dedicated on July 4, 1923, this Wilmington statue honors colonial Delaware patriot Caesar Rodney. At almost midnight on July 1, 1776, Caesar Rodney was informed that he was needed in Congress to cast a tie-breaking vote for the colony of Delaware on the matter of declaring independence from Britain. Rodney rode 80 miles on horseback to Philadelphia and on the next day, July 2, 1776, Rodney cast his vote which broke the tie and paved the way for the passage of the Declaration of Independence. However, its status as of 2021 remains unclear as it was removed during the nationwide social justice protests associated with the murder of George Floyd. Rodney owned several slaves, and in response to concerns about having this statue continue to serve as a prominent symbol of Delaware, city leaders chose to remove the statue temporarily pending future discussions and a final decision regarding this statue's location. Rodney Square, where the statue once stood, remains as an anchor of the city's downtown historical district.
Images
Commemoration of Caesar Rodney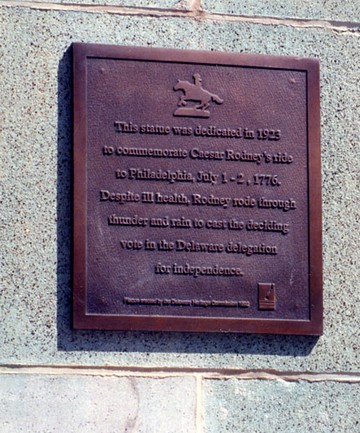 The City of Wilmington removes the Caesar Rodney statue.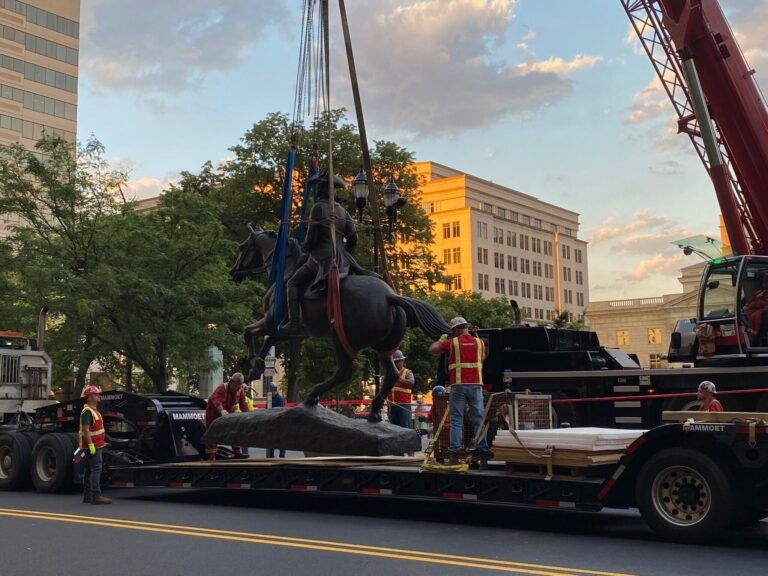 Caesar Rodney Statue, Rodney Square, Wilmington, Delaware, USA. Viewed from the southwest. A contributing property to the Rodney Square Historic District.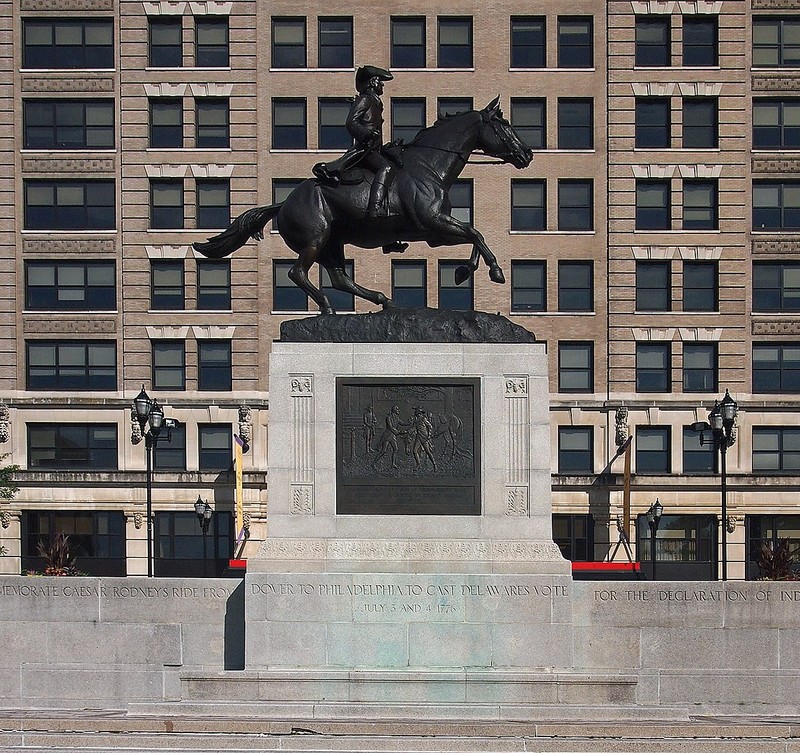 To learn more about slavery in Delaware, consider this book by Auburn University professor Patience Essah. The link is at the end of this entry.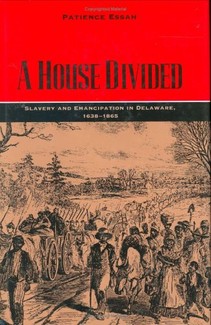 Backstory and Context
On June 30, 1776, delegates to the Continental Congress put forward a motion for independence. After debate, an initial vote was held on July 1st that saw nine colonies vote in favor of independence. There were two colonies who initially voted against the measure while Delaware delegates split their vote. Three delegates, Thomas McKean, George Read, and Caesar Rodney, were sent to the Continental Congress by Delaware but Caesar Rodney was not present on July 1st owing to his duties as Brigadier General of the Delaware militia. In Rodney's absence, the vote in Delaware was tied voted was between Mr. Read who voted against independence and Mr. McKean, who voted for independence.The statue, erected in 1923, was removed in 2020 in response to the nationwide social justice protests associated with the George Floyd murder.
Mr. McKean dispatched a rider to notify Rodney of this issue and to inform him that he was needed to break the tie. At almost midnight on July 1, 1776, Rodney rode 80 miles horseback to Philadelphia, and on July 2, 1776, Rodney cast his vote for independence. Caesar Rodney's vote for independence caused him to be branded a traitor to the Crown, but following a successful revolution, he is regarded by Delaware residents and Americans as a patriot.
Rodney suffered from ill-health including asthma and cancer of the jaw in which would have made his ride strenuous. "As history records, Caesar Rodney gave up the possibility of receiving medical treatment in London because he voted and pledged his life, fortune and sacred honor for American Independence" (Howell). Rodney's heroic act was commemorated by a statute and also by his image appearing on the 1999 U.S. Delaware Quarter. Since its dedication in 1923, Caesar Rodney's statue has stood at this location in what has been known since that tie as Rodney Square.
Delaware remained a slave state even after some neighboring states such as New Jersey and Pennsylvania chose to gradually end slavery through a series of laws in the early 1800s. Rodney and his family members enslaved people of African descent throughout his life. Rodney owned as many as fifteen enslaved persons and did not emancipate these individuals until certain dates set forth in his will. Rodney Square remains, an area deemed a national historical district by the National Register of Historic Places, but the status of the statue remains in flux.
Sources
Barrish, Cris. "Wilmington's statues of Columbus and Caesar Rodney coming down — at least for now." PBS-WHYY. whyy.org. June 12. 2020. https://whyy.org/articles/wilmingtons-statues-of-columbus-and-caesar-rodney-coming-down-at-least-for-now/
Howell, Derek. The Midnight Ride for American Independence. Institute on the Constitution. July 2, 2013. Website. https://www.theamericanview.com/the-midnight-ride-for-american-independence/
Read, George. Caesar Rodney. DSDI. November 30, 2011. Website. http://www.dsdi1776.com/signers-by-state/caesar-rodney/.
Smithsonian Institution. Caesar Rodney Equestrian Statue (sculpture). Collections Search Center. 2016. Website. http://collections.si.edu/search/results.htm?q=record_ID:siris_ari_20716.
Taylor, Derrick Bryson. "George Floyd Protests: A Timeline At least six people have been killed in violence connected to the protests that started after Mr. Floyd died in police custody.." New York Times (New York), January 6 2021. , U.S. sec.
Image Sources
Photo credit: City of Wilmington, provided to PBS-WHYY at https://whyy.org/articles/wilmingtons-statues-of-columbus-and-caesar-rodney-coming-down-at-least-for-now/

By McGhiever - Own work, CC BY-SA 4.0, https://commons.wikimedia.org/w/index.php?curid=85772307

https://www.amazon.com/House-Divided-Emancipation-1638-1865-Institute/dp/081391681X

Additional Information