CalEdison Building
Introduction
The building was originally known as the Southern California Edison Company Building and was owned and occupied by a utility company. It was one of the first all-electrically heated and cooled buildings constructed in the western United States. Standing fourteen-stories high, the steel-framed building follows a classically inspired Art Deco design. The lower three stories are of solid limestone, while the upper stories and central tower are faced with buff-colored terra cotta. On the façade, the spandrels contain a cubic Art Deco pattern, repeated in the central tower, lobby floor and elevator ceilings. The exterior greenhouse-like structures were added in the 1980s and the street-level shopping corridor in 1993.
Images
The Edison as it stands today.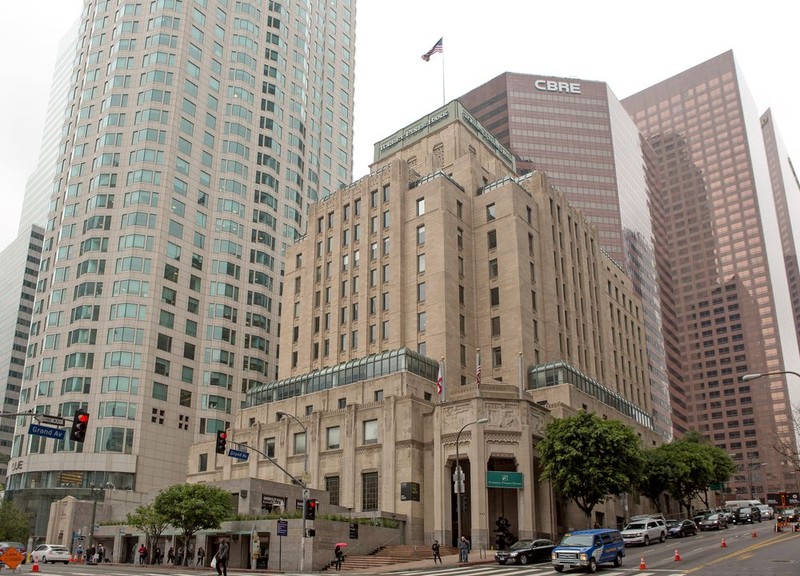 A Black and white shot of the building.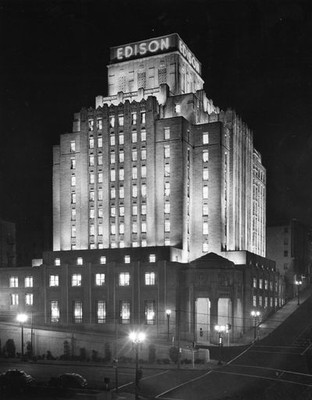 Backstory and Context
The building was redeveloped in the 1980s and became known as One Bunker Hill. Recently it has been rebranded again and gone back to its roots. The current name, CalEdison, is a tribute to the building's history as the former headquarters of the Southern California Edison Company which was completed in 1931. It was among the first buildings in the Western US to include all-electric heating and cooling.

In 2015 it was purchased in a joint venture by partners Lionstone Investments, a privately owned, US-based real estate investment company, and Hermes Investment management, the £28.6 billion manager focused on delivering superior, sustainable, risk-adjusted returns to its clients. Rising Realty Partners, a full-service real estate platform based in Downtown Los Angeles, oversaw the redevelopment, while Industry Partners, with its focus on high-quality creative office product, is the leasing brokerage.

Improvements in the common areas, designed by Rios Clemente Hale Studios, include adding new tables and seating areas and a full-service barista bar serving gourmet coffee drinks. Other building enhancements include new upper floor lobbies, restrooms, lighting, and wayfinding crafted by Omngivning architects; renovations to the valet waiting area; and new management offices. Additionally, The CalEdison's architectural details and characteristics—such as decorative marble cladding, coffered ceilings, sculptured metal details, and an original mural by Hugo Ballin—have been preserved.


Sources
Former One Bunker Hill Historic Office Building Rebranded To The CalEdison DTLA. Rising RP. January 31, 2017. Accessed July 29, 2017. https://risingrp.com/blog-/2017/2/1/former-one-bunker-hill-historic-office-building-rebranded-to-the-caledison-dtla.

CalEdison Building. LA Conservancy. Accessed July 29, 2017. https://www.laconservancy.org/locations/caledison.

Chandler, Jenna. The CalEdison: The old marble lobby is a beautiful place to perch up. LA Curbed. May 02, 2017. Accessed July 29, 2017. https://la.curbed.com/2017/5/2/14524840/caledision-one-bunker-hill-art-deco-dtla-wifi.

Barragan, Bianca. One Bunker Hill to Be Restored to Its Art Deco Awesomeness. LA Curbed. October 08, 2015. Accessed July 29, 2017. https://la.curbed.com/2015/10/8/9913294/one-bunker-hill-renovation.


Additional Information