Spencer Museum of Art
Introduction
Originally located in Spooner Hall, the University of Kansas's Spencer Museum of Art has been located in this purpose-built structure since 1978 thanks to a $4.6 million donation from Helen Foresman Spencer. The museum holds the most comprehensive art museum in Kansas with a collection of 45,000 works of art and cultural objects ranging from ancient cultures to the present. The collections include paintings, sculptures, prints, drawings, furniture, ceramics, and photographs. The museum is known for its robust collections of Native American objects along with Medieval art; European and American paintings, sculpture, and prints; along with Japanese Edo-period painting and prints, and 20th-century Chinese paintings. The museum houses 8,500 ethnographic objects from the former Kansas Museum of Anthropology, which closed in 2007. The building is also home to the Murphy Library of Art and Architecture and the Kress Foundation Department of Art History.
Images
The Spencer Museum of Art opened in Spooner Hall in 1928 and moved to the current building in 1978.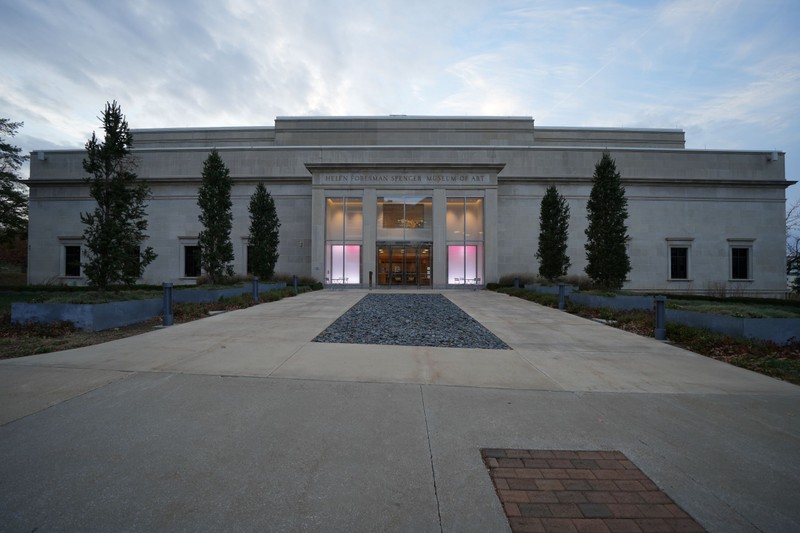 Backstory and Context
The origins of the museum date back to 1917 when Kansas City art collector Sallie Casey Thayer donated her art collection, which numbered 7,500 works of art from Europe and Asia, to the university. Her goal was for the university to establish a museum in so that this collection could be studied. It took some time but in 1928 the university established the museum in Spooner Hall, using the collection as a foundation on which to grow the museum. Spooner Hall was renovated to house this collection which grew to the point that by the late 1960s, it was clear that a new space was needed. Local philanthropist Helen Spencer donated $4.6 million to fund the building of a new museum, which was designed in the Neo-Classical style by Robert Jenks, a Kansas City native and graduate of the University of Kansas. The collection grew again in 2007 with the closing of the anthropology museum which resulted in an additional 8500 objects. A 2015-2016 renovation included more modern teaching spaces and an entrance that brings more light to the redesigned lobby which can host a variety of events. A gift of $3 million from Margaret Silva in 2022 will support the museum's Arts Research Integration prorogram.
Sources
"History." Spencer Museum of Art. Accessed May 22, 2014. https://www.spencerart.ku.edu/history.
Spencer, Laura. A $3 million gift to KU's Spencer Museum aims to help artists and researchers answer 'big questions', KCUR. July 20th, 2022. Accessed November 4th, 2022. https://www.kcur.org/arts-life/2022-07-20/kus-spencer-museum-gets-3-million-to-embed-artists-in-high-level-science-and-humanities-research.
Image Sources
Photo by David Trowbridge

Additional Information