The Heaviest Corner on Earth Marker
Introduction
City boosters dubbed the corner of 20th Street and 1st Avenue North"The Heaviest Corner on Earth" due to the existence of four large buildings bordering this intersection. The name reflected the optimism of city boosters following the completion of four of the tallest buildings in the South within a single decade-an occurrence that Birmingham residences saw as evidence that their city would become one of the leading American cities. The corner is home to the 10-story Woodward Building, completed in 1902, the 16-story Brown Marx Building, completed in 1906, 16-story Empire Building, completed in 1909, and the 21-story American Trust and Savings Bank Building, completed in 1912.
Images
A promotional photo of the four buildings that represent "The Heaviest Corner on Earth."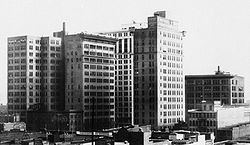 This marker was erected on May 23, 1985 by the Birmingham Historical Society.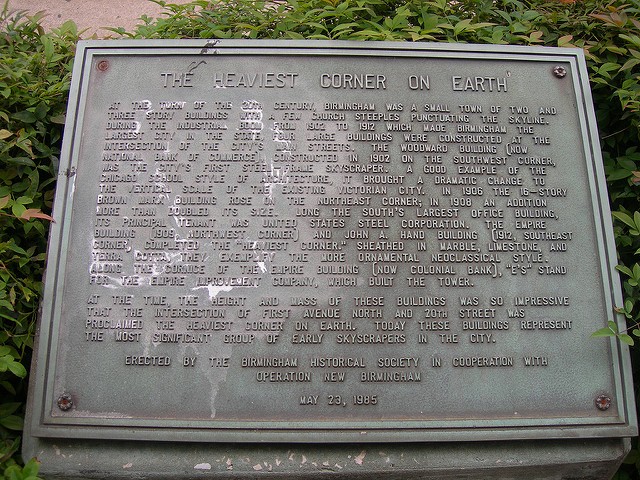 Backstory and Context
Jemison Magazine proclaimed the intersection to be the "Heaviest Corner in the South" in 1911. As the years wet by, this name was changed to the boasterous claim that this was actually the largest collection of skyscrappers in the world. While this claim was never meant to be taken literally, the phrase appealed to those who hoped Birmingham could compete in some way with the large and growing metropolitan cities of the east.
Additional Information