Kate Mullany House
Introduction
This modest three-story brick house is the only surviving building associated with Kate Mullany, a young Irish immigrant laundry worker who organized and led the all female "Collar Laundry Union" in 1864. She lived in this house while making labor and woman's history. Her house was declared a National Historic Landmark by the Secretary of the Interior in 1998. It is now the home of the American Labor Studies Center.
Images
The Kate Mullany House is being declared as a National Historic Landmark on July 15th,1998.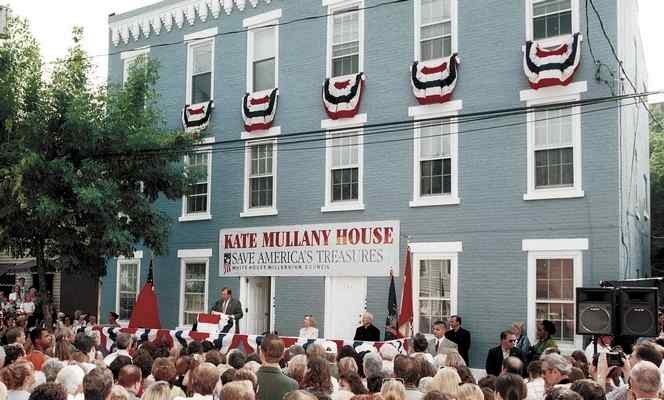 The Kate Mullany House in the process of being restored, May 2016.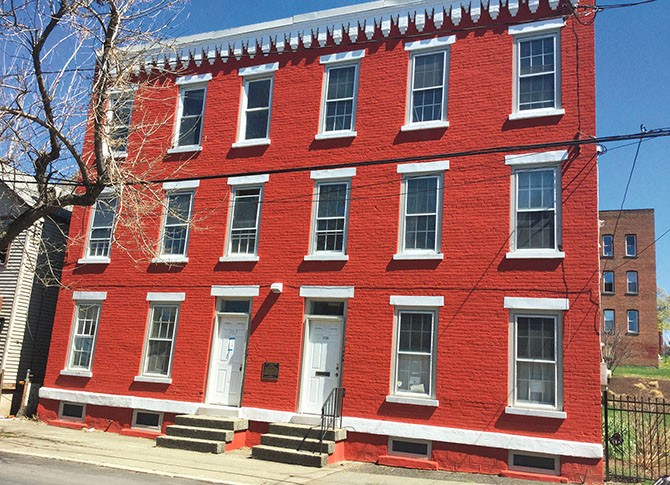 Backstory and Context
The story of Kate Mullany tells the legacy of a Woman Trade Union Pioneer. Born around 1841 to Irish parents living in England, Mullany and her family sailed to New York in 1850, arriving in Troy about 1853. At the age of 19, her father had died and her mother was very ill, leaving Mullany to be the breadwinner of the house. She went to work at a shirt collar factory since Troy was producing about 90% of the nation's detachable collars at the time. Mullany, like many of the other "Laundry Girls" worked 14 hours a day for $2 a week in very dangerous working conditions. They had to wash, bleach, starch, iron, and dry the collars, and the women were frequently burned by the chemicals and irons.
In 1864, at the age of 23, Mullany stepped in to organize a union to demand change. One day in the month of February, Mullany and about 200 other workers formed what became known as the Collar Laundry Union, and they demanded a 25-cent raise. The women went out of work for five and a half days until a few of the business owners gave in. But it did not end there. Unlike other labor unions that were formed in the 19th century, the Collar Laundry Union remained active in Troy for six years after its inception. In 1868, Mullany gained recognition when the National Labor Union President made her the first female appointed to a labor union's national office.
After the strike, Mullany's mother bought the brick duplex that became known as the Mullany House. She and her family lived on the third floor, and Mullany resided there until her death in 1906. In 1998, First Lady Hillary Clinton dedicated the Kate Mullany House as a National Historic Landmark. In 2016, Mullany was inducted into the Labor's International Hall of Fame. Her house stands to serve as an example of a strong tradition of women's union activity.

Sources
Hornbeck, Leigh. "Troy's Kate Mullany, Irish immigrant who organized first women's union, inducted to labor hall of fame." Times Union. May 13, 2016. Accessed July 29, 2017. http://www.timesunion.com/tuplus-features/article/Troy-s-Kate-Mullany-Irish-immigrant-who-7468417.ph....
Kate Mullany National Historic Site. Accessed July 27, 2017. http://katemullanynhs.org/about.
"Kate Mullany House -- NRHP Travel Itinerary." National Parks Service. Accessed July 27, 2017. https://www.nps.gov/nr/travel/pwwmh/ny18.htm.
Levine, David. "Women's History Month: Honoring Revolutionary War Heroine "Captain Molly" Margaret Corbin and Troy Collar Laundry Union Leader Kate Mullany." Hudson Valley Magazine. March 4, 2014. Accessed July 27, 2017. http://www.hvmag.com/Hudson-Valley-Magazine/March-2014/Womens-History-Month-Honoring-Revolutionary-W....
Additional Information