Historic Location of Hide/Hyde Park
Introduction
Although residential area now, this site was the location of an infamous shootout on August 20, 1871, called the General Massacre or the Shootout at Hide (or Hyde) Park. This incident gave rise to the popular saying in 1871, "There is no Sunday west of Newton . . . And no god west of Pueblo?" A reporter for the Emporia News called the incident one of "the bloodiest affrays that ever occurred in our State."
Images
Newton, Ks, 1871 Main Street looking north over the railroad tracks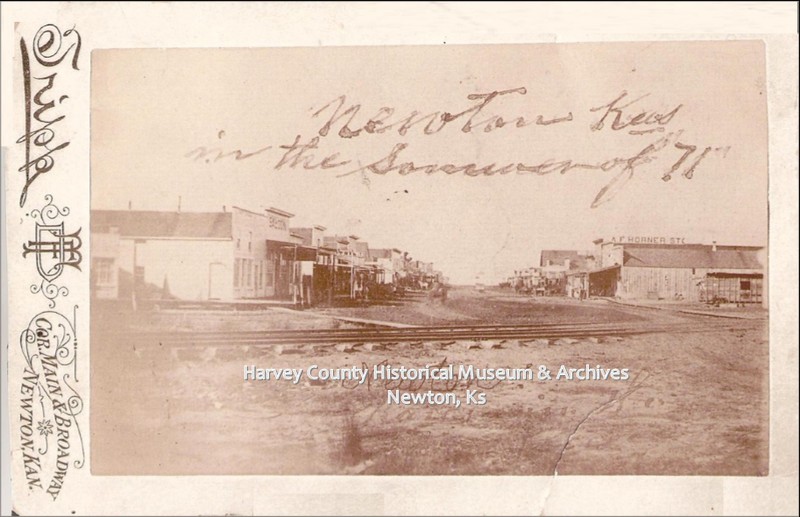 1871 Map of Newton, Ks showing the location of Hide/Hyde Park, Block 52 on the south side of the railroad tracks.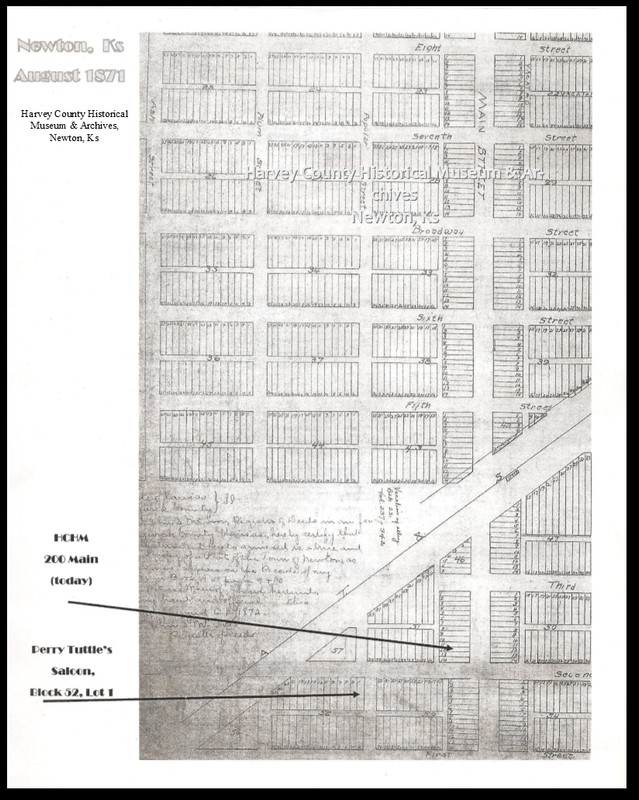 Perry Tuttle's Deed, 1873.

Interior of a unidentified saloon.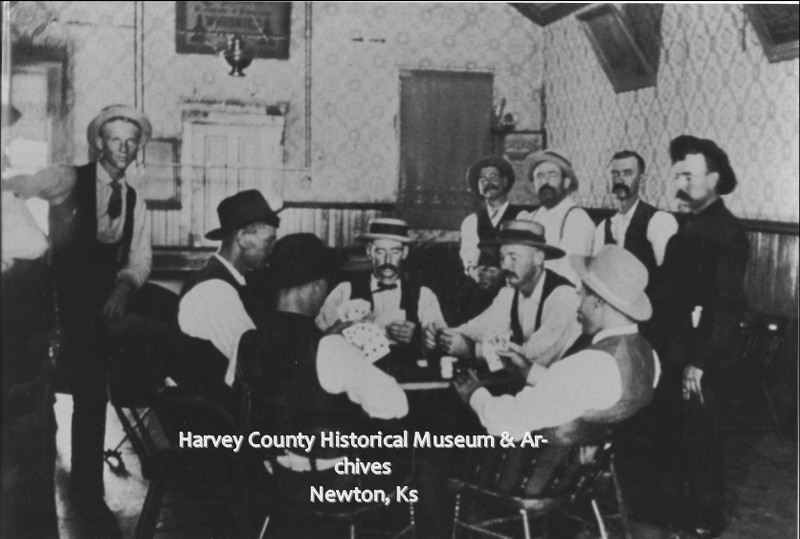 Backstory and Context
Tempers were high at the peak of cattle drive season in Newton. Several shootings had already occurred in the lawless town throughout June and July. Then on August 11, an argument erupted between two men, Mike McCluskie and "Billy" Bailey, who were hired by Newton and Santa Fe authorities as special police for the upcoming elections.
McCluskie, an Irishman from Ohio, aka Arthur Delaney or Art Donovan, had a rough reputation and was described as "among the hardest individuals to ever walk Newton." Previously he had worked for the Santa Fe Railroad as a night policeman.
Bailey, a Texan, was described as a "thoroughly offensive and officious" gambler. It was rumored that he killed at least two other men in gunfights. Bailey was also hired as a Special Policeman for the elections. The two men had a long-standing feud, possibly over a woman, which came to a tragic conclusion on August 11, 1871.
During the day, McCluskie and a drunk Bailey argued. Later, at the Red Front Saloon, the argument escalated into a fistfight. Bailey left the saloon with McCluskie following, guns drawn. Two shots were fired at Bailey, who died the next day. McCluskie, realizing he was in danger from Bailey's Texas friends, left for Florence by a train.
August 19, Saturday
A week later, feeling the danger had passed, McCluskie returned to Newton and went to Perry Tuttle's Hide Park Dance Hall to gamble.
August 20, Sunday Morning
1:00 a.m: Apparently, sensing trouble, Perry Tuttle attempted to close the dance hall. Customers refused to leave, even after the band left.
2:00 a.m: McCluskie remained at the faro table. Three Texans, Billy Garrett, Henry Kearnes, and Jim Wilkerson, entered the dance hall, one joined McCluskie at the faro table. A short time later a Texas cowboy, Hugh Anderson entered, gun in hand.
Anderson, the son of a wealthy Texas cattleman, was working as a cowboy. He had recently ridden with John Wesley Hardin and had been part of a brutal killing of a Mexican cowboy earlier in the summer. Now his mind was on revenge for the death of his friend Bailey. McCluskie's return to Newton on Saturday was Anderson's opportunity.
The Emporia News described the next few minutes inside Tuttle's Dance Hall.
Anderson walked directly to McCluskie, "with murder in his eye, and foul mouth filled with oaths and epithets, he steps up to McCluskie and shot him," striking him in the neck. Mortally wounded, McCluskie fell to the floor while attempting to fire his own pistol, which misfired. This account goes on to note that "shooting then became general" ending with five men killed and three wounded. (Emporia News 25 August 1871)
Most accounts agree that Jim Martin, the first person shot by the second gunman, ran out of the door, bleeding from the neck, and fell dead in front of Krum's saloon, the Alamo. Martin was a well liked and most agreed that he was an innocent bystander who tried to calm the situation down. Instead, he was fatally shot. After Martin, six more men were shot.
The original shooter, Hugh Anderson, was severely wounded. Patrick Lee, a brakeman for the railroad, and Texans Billy Garrett and Kearnes were fatally shot, each dying after several days. Two other men, James Wilkerson and a man known as Hickey, were wounded and later recovered.
At 8:00 o'clock Sunday morning, Coroner C.S. Bowman held an inquest into the deaths of Mike McCluskie and Jim Martin. After investigating for four and a half hours, the jury found "that Martin came to his death at the hands of some person unknown, and that McCluskie came to his death at 8 o'clock a.m., this 20th day of August, by a shot from a pistol in the hands of Hugh Anderson."
The finding angered the Texans, who promised that the bodies of the jury would be found "ornamenting neighboring telegraph poles" if Anderson was arrested. Fear was rampant the next few days in Newton.
Sources
Maps:
Plat of the Town of Newton, Ks, 17 August 1871. Map Collection, HCHM Archives.
Newspapers:
Topeka Commonwealth, September 17, 1871.
Emporia News, 25 August 1871
Accounts:
Muse, Judge RWP. History of Harvey County, (1881) Harvey County Historical Museum and Archives, Newton, Ks. First published in Edwards, John P. Historical Atlas of Harvey County, Kansas. Philadelphia, 1882.
Stewart, C.H. "Newton History" February 25, 1938, recalling 60 years ago (1878). Chisholm Trail Collection, HCHM Archives.
Hunter, J. Marvin, ed. The Trail Drivers of Texas. 2 Vols.
McCoy, Joseph G. Historic Sketches of the Cattle Trade of the West and Southwest, 1874.
Additional Information