The Capture of Santa Anna
Introduction
This marker commemorates the capture of Mexican military and political leader Antonio Lopez de Santa Anna on April 22, 1836. The capture of Santa Anna occurred the day after the Battle of San Jacinto which resulted in a resounding Texan victory and ultimately led to the establishment of the Republic of Texas. The battle lasted a short eighteen minutes and it was a total defeat for the Mexican military forces as Texian forces maneuvered stealthily and caught the larger Mexican army off guard and launched a surprise attack. Santa Anna tried to escape by disguising himself as a common soldier and hiding, but he was later captured by Texan forces and his identity was revealed.
Images
The marker commemorating the capture of President Santa Anna on April 22, 1836.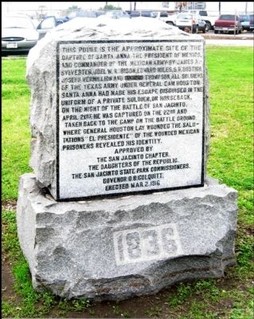 Backstory and Context
The Battle of San Jacinto was a notable battle during the Texas Revolution where Texan forces clashed with the Mexican military. General Sam Houston led forces against President Santa Anna's military forces in a battle where the Texans would win decisively in just 18 minutes. General Houston had written a first-hand account of the events from the headquarters of his army in San Jacinto. Mexican authorities had soon caught word of the defeat of their forces flying flags at half staff. This battle would help lead Texas further towards independence from Mexico, but the government and authorities of Mexico refuse to accept this as a confirmation.
The section known as Bexar would undergo martial law in 1836 and the Texan forces expected an uprise from the Mexican Army to hit back harder after their embarrassing loss. On June 1, 1836, President Santa Anna would board a ship back home to Mexico, but crowds of soldiers wanted to claim his life. Three days later on June 4, Santa Anna would be captured by Texan soldiers and placed under arrest. There were calls to immediately ratify a Constitution for the Republic of Texas and Sam Houston was elected as the first President of the country. President Santa Anna was attacked by the media ruthlessly and was disgraced as a political leader.
President Santa Anna himself had a firm grip of influence in the realm of Mexican politics. Upon returning to Mexico, Santa Anna was obviously not a popular figure as the Mexican media chewed him out for the murders he caused. However, the political situation in Mexico for the next couple of decades was quite fluid which allowed Santa Anna to take advantage of the situation. He became a frequent leader in Mexico eleven times serving until 1855 where he would be thrown out of office. Santa Anna died a penniless man in 1876 at the age of 82.
Sources
"The Capture of Santa Anna." The Historical Marker Database. Accessed July 24, 2017. https://www.hmdb.org/marker.asp?marker=60821,
"General Santa Anna dies in Mexico City." History.com. Accessed July 24, 2017. http://www.history.com/this-day-in-history/general-santa-anna-dies-in-mexico-city.
Sproat, Leslie. "Capture Site of Santa Anna." Sam Houston State University. Accessed July 24, 2017. http://easttexashistory.org/items/show/142.
"Surrender Of Santa Anna." Texas State Library and Archives Commission. Accessed July 24, 2017. [This is a personal account given under oath about the surrender of Santa Anna by Texan soldier John Forbes] https://www.tsl.texas.gov/treasures/republic/san-jacinto/surrender.html.
Photo: Jim Evans, via the Historical Marker Database