Elizabeth Simpson Drewry Marker
Introduction
This marker recognizes Elizabeth Simpson Drewry, the first African American woman to win election to West Virginia's legislature in 1950. Drewry served thirteen years in the legislature and was a driving force behind legislation that opened jury service to women. Dewry helped expose corruption in coal corporations, advocated for health care reform, supported measures to improve educational opportunties for all West Virginians, and supported measures that promoted equal rights. Like fellow West Virginians such as Booker T. Washington and Carter G. Woodson, Simpson believed that education was the key to overcoming prejudice and securing a better life. Drewry was active in the the National Association of Colored Women. She was also named one of ten most influential African American women in goverment by Ebony Magazine.
Images
Historical marker located in Northfork, WV, in McDowell County.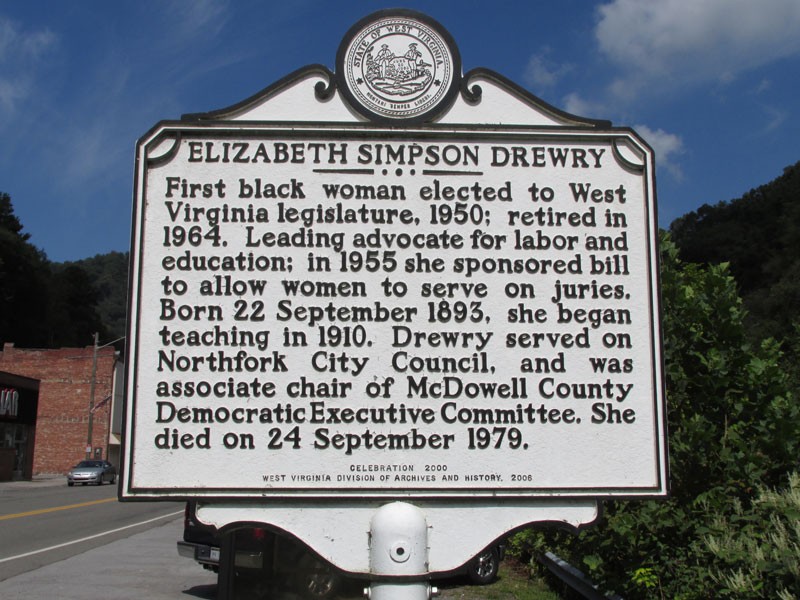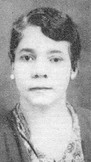 Backstory and Context
Born in Virginia on September 22, 1893, Elizabeth Simpson Drewey moved to McDowell County with her family, where she attended a segregated public school. She then moved on to Bluefield Colored Institute (now Bluefield State College) where she was active in her church and in the Delta Sigma Theta Sorority. She was a member of the National Association of Colored Women, and she helped bring to light issues the African American community faced in rural West Virginia. She was a staunch advocate of pursuing education as a form of racial uplift, and she served as a teacher in segregated schools in the coal camps of McDowell County.

Drewry began her political career as a poll worker in 1921. Social issues were a concern to Drewry, and she was interested in uplifting her community. She joined the Northfork Town Council and worked her way up to become the associate chairperson of the McDowell County Democratic Executive Committee. She ran for the House of Delegates in 1948 but was defeated in a tight race after vote count disputes. She ran again in 1950, this time claiming the seat on the legislature. Her victory in the 1950 election made her the first African-American female elected to West Virginia's legislature.

Drewry fought hard for labor and education reform in West Virginia. She was responsible for the introduction of legislation in 1955 which allowed women to serve on juries in West Virginia, the last state to overturn gender discrimination on juries. She was the chairwoman of both the Health and Military Affairs committees and was a member of numerous other social welfare committees. She played a role in exposing attempted bribes from coal companies in her first term of office. Her legislative service lasted thirteen years, the longest of any McDowell County resident at that time. Her groundbreaking success earned her a spot as one of Ebony magazine's top ten Negro women in government in 1956.
Sources
1. "Elizabeth Simpson Drewry," accessed July 23, 2017, http://www.historicalmarkerproject.com/markers/HMIX_elizabeth-simpson-drewry_Northfork-WV.html
2. "Elizabeth Simpson Drewry," accessed July 23, 2017, http://www.wvculture.org/history/archives/women/drewry.html
3. "September 22 1893: Legislator Elizabeth Simpson Drewry Born in Virginia," accessed July 23, 2017, http://wvpublic.org/post/september-22-1893-legislator-elizabeth-simpson-drewry-born-Virginia#stream/...
Additional Information