Eagles Building
Introduction
This Renaissance Revival style building, with its terra cotta, symmetrical façade and its three Roman arches supported by Corinthian pilasters, was once home of the Fraternal Order of Eagles and the hub of downtown Lorain. At its height, the F.O.E. had 3,500 members, making it the largest fraternal order in Lorain. The building held events such as dinner-dances, musical performances, children's holiday programs, theatrical performances, and boxing matches. The building was abandoned in 1984 after membership had been depleted and the order moved to a smaller location.
Images
The Eagles Building today. Photo by Richard Payerchin for the Morning Journal.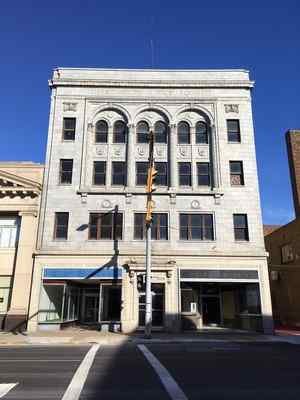 Backstory and Context
Construction on the one-story building began in 1918 with the use of reinforced concrete (due to material shortages after the First World War). The F.O.E.'s motto, Liberty-Truth-Justice-Equality, was etched upon its upper entablature. Three more floors were added after a 1924 tornado. During the prohibition era, the lodge served as a speakeasy, and, it is rumored (due to a mysterious bullet hole in a wall), that gangster John Dillinger might have had an office in the basement. The first floor of the building was used for storefronts such as J.C. Penney, Hart Jewelry, Cane's Surplus Store, Wear-U-Well Shoe Store, and Gorsage Restaurant. The upper floors included a bar, billiard rooms, administrative offices, and a dance hall.
Sources
Payerchin, Richard. Lorain Palace Theater board puts Eagles Building on market. The Morning Journal. December 08, 2017. Accessed September 03, 2018. http://www.morningjournal.com/general-news/20171208/lorain-palace-theater-board-puts-eagles-building-on-market. Photo source.