The Wonder Wheel
Introduction
The Wonder Wheel was designed and built from 1918 to 1920. It opened on May 31, 1920. The designer of this Ferris Wheel, called a Dip-the-Dip at the time, was Charles Hermann, but the Wheel was built by the Eccentric Ferris Wheel Company. The Wonder Wheel is constructed with Bethlehem steel and stands 150ft tall. It has a seating capacity of 144 people with 24 different cars to ride in. The Wonder Wheel has run continuously over the years, missing only one day in 1977 when the Great NYC Blackout occurred.
Images
Closeup of the Wonder Wheel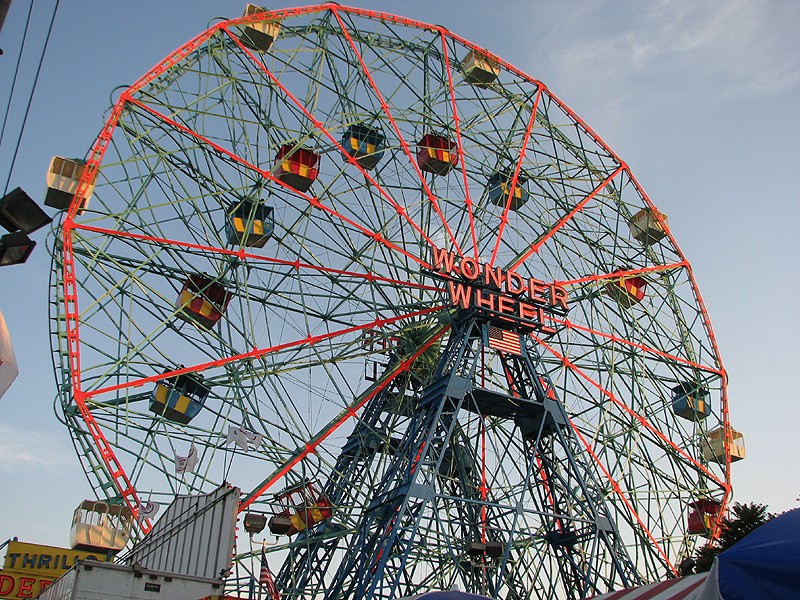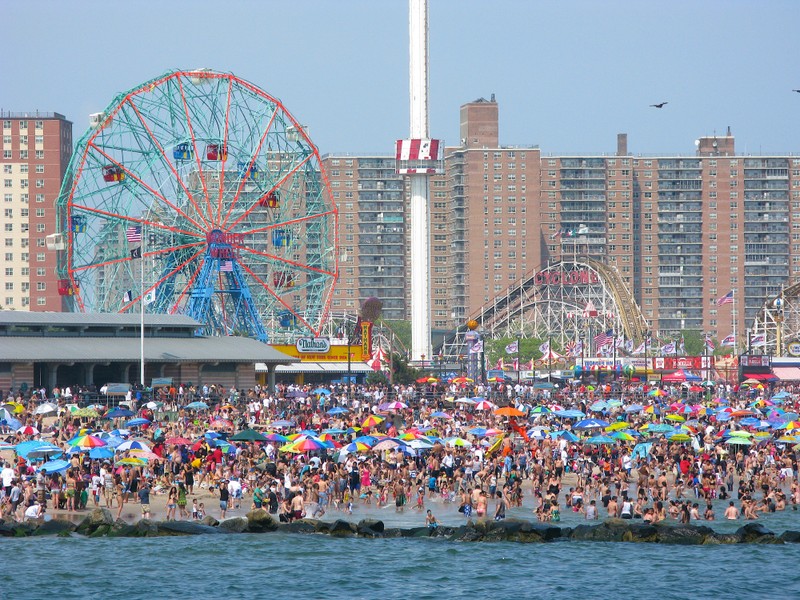 Backstory and Context
The Wonder Wheel was designed by Charles Hermann, a Romanian engineer, in 1918, and the ride was completed in 1920. It opened to the public on Memorial Day (May 31st) of 1920. The Wheel stands as tall as a fifteen-story building at 150ft. It has twenty-four cars to ride in, and each car holds six people. Some of the cars swing back and forth while others are stationary. Though it was built in 1920, the Wheel is still safe today, and it has operated every day since it opened except for during the Great NYC Blackout that occurred in 1970.

Charles Hermann passed the Wonder Wheel over to his son, Fred Garms, after his death. Garms added another ride called the Spook-a-Rama near the Wonder Wheel. After maintaining the Wheel for years, Garms decided to sell the Wonder Wheel. On June 7, 1983, Garms sold the Wonder Wheel to Denos D. Vourderis, who proposed to his wife in front of the Wonder Wheel in 1948. The Wheel is still considered a romantic spot for many guests.

Vourderis was an immigrant from Greece who immigrated to the United States at the end of World War II. He worked as a mechanic at Coney Park, the location of the Wonder Wheel, starting in the '70s. The Wonder Wheel costs him $250,000, and it came with no instruction manual. After Vourderis purchased the Wheel, it was renamed Deno's Wonder Wheel. Today, the Wheel is still run by the Vourderis family - he died in 1994. It was given the status of a New York City landmark in 1989.
Sources
"History." Deno's Wonder Wheel. Accessed Web, 7/21/17. http://www.wonderwheel.com/history/.

"Deno's Wonder Wheel." Atlas Obscura. Accessed Web, 7/21/17. http://www.atlasobscura.com/places/denos-wonder-wheel.

Anderson, Norman. Ferris Wheels: An Illustrated History. Madison, Wisconsin. Popular Press 3, 1993.


Additional Information