Historic Montgomery Cemetery
Introduction
Established in 1847, Montgomery Cemetery was the first public, non-sectarian burial grounds in Montgomery County. Ideally located on sloped land along the Schuylkill River just outside Norristown, and designed in a formal Rural Landscape style, it provided a park-like setting for families to visit their relatives, view the outdoor symbolic sculpture on monuments, and walk the grounds. With almost 6000 known burials, Montgomery Cemetery holds the remains of some of the most prominent citizens, veterans and reformers in the county and nation. From five Civil War generals to many captains of industry, it tells the story of the nation through the lives it represents. Over 400 veterans are buried in Montgomery Cemetery from the War of 1812 through the Korean War. The cemetery is no longer an active burial ground, but is preserved as a link to the past.
Images
General Adam Jacoby Slemmer Plaque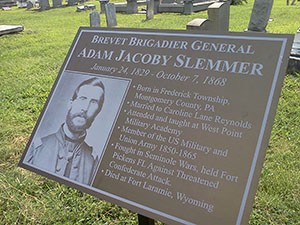 Backstory and Context
The Historical Society of Montgomery County owns and maintains Historic Montgomery Cemetery. The Society took over responsibility for the entire cemetery in 1997 after years of neglect, vandalism and wear had taken their toll. Through the efforts of community groups, Civil War groups and private citizens, the Society has been able to return the cemetery to some of its former beauty. We are privileged and honored to be the caretakers of this historic hallowed ground.

The entrance to Montgomery Cemetery is at the end of Hartranft Avenue, off of West Main Street, Norristown.
When Visiting:

The cemetery is a RIP (Restoration in Progress). With the help of many volunteers, the Historical Society of Montgomery County has achieved a great deal in bringing back some of the former glory, but there is still much work to be done.
The main entrance gate is locked to help prevent vandalism. Visitors are welcome to enter through the pedestrian gates. Please clean up after pets, which need to be leashed at all times. Be mindful of uneven terrain. Plots in need of repair may be hazardous. Please adhere to all posted guidelines and exercise caution if wandering off designated pathways.
Additional Information