Leonard Bond Chapman House
Introduction
The Leonard Bond Chapman House is one of Portland, Maine's most distinct historic homes. Constructed in the Second Empire architectural style, it notably varies from the style of the era by its unique mansard roof design. On the property there is located a carriage house and a "spring house" in identical styling to the main structure itself. The home belonged to esteemed Portland historian and antiquarian Leonard Bond Chapman.
Images
A photo of the Leonard Bond Chapman House in 2016, by Farragutful of Wikimedia Commons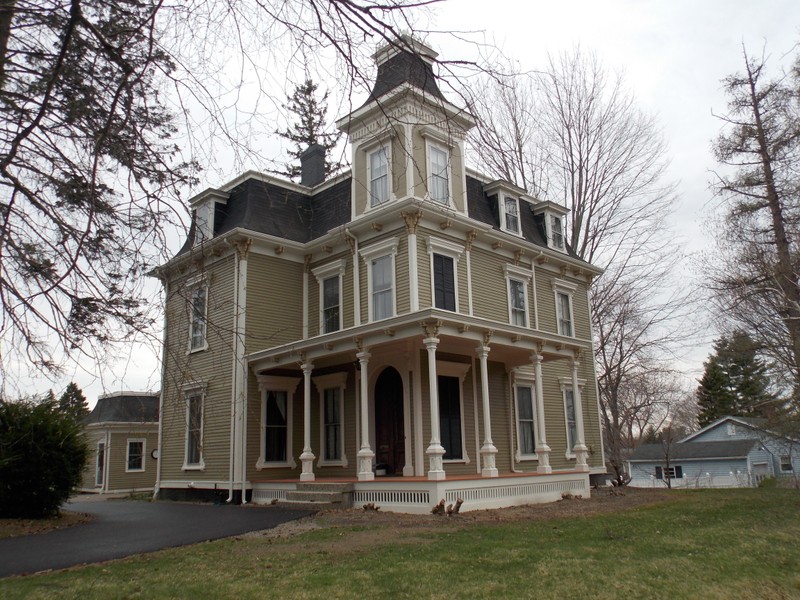 Backstory and Context
Located just down the road from Capisic Pond, the Leonard Bond Chapman House stands out among other structures in the Rosemont neighborhood of Portland. It was the longtime residence of Leonard Bond Chapman, a Portland native born in 1834 who would go on to become an important figure in the preservation of the region's history. For most of his life, Leonard Bond Chapman ran a nursery business whose profits he employed to fund his love of local history. Over the course of his life, Chapman collected manuscripts and documents relevant to the City of his birth. Additionally, he composed numerous historical summaries and studies while participating as a member of the Maine Historical Society. At the time of his death in 1915, he left his entire collection, which had been meticulously organized, notated, and preserved, to the Maine Historical Society he had long been a member of.
One of the most unique features of Chapman's home is the mansard roof construction and its interaction with the square tower that rises from the third floor of the house. While mansard roofs are present in a number of preserved 19th century residences in the Portland area, none have a roof so drastically flared, nor do they possess an inset tower with a mansard roof of its own.
The House has been well-preserved despite being currently used as a modern residence. Additionally, both the spring house and the carriage house, which lie on the same plot of land as the Chapman House, have been spectacularly preserved. The spring house, a two room structure with its own cellar, has a mansard roof that matches the styling of the main house. Inside the spring house, a signature is stenciled into the wood in a very small, enclosed wood chamber. The signature reads "Albion Leonard Chapman."
The carriage house is built in identical styling to the main house, save for one detail. The roof of the two-story barn is constructed in a clipped-gable style. Despite being designed for the storage of horse and carriage, the barn is notably ornamental, and has been largely preserved as such. The only notable modification that has been made from the original design is the addition of modern garage doors, as the original doors sustained wear over the many years of the house's existence.
Sources
Leonard Bond Chapman House NRHP Nomination. National Park Service. https://npgallery.nps.gov/pdfhost/docs/NRHP/Text/80000228.pdf. Official NPS nomination paperwork of the Leonard Bond Chapman House

Leonard Bond Chapman House. Wikipedia.org. Accessed July 18, 2017. https://en.wikipedia.org/wiki/Leonard_Bond_Chapman_House. Meta-source for general information on the house


Additional Information