Hardy County Courthouse
Introduction
Construction of this courthouse began in 1911 and the building opened in 1914. The building became the fourth in Hardy County's long history, and even held services for a local church for a number of years. The building was restored and expanded in the 1980s and continues to serve as the headquarters of the county government.
Images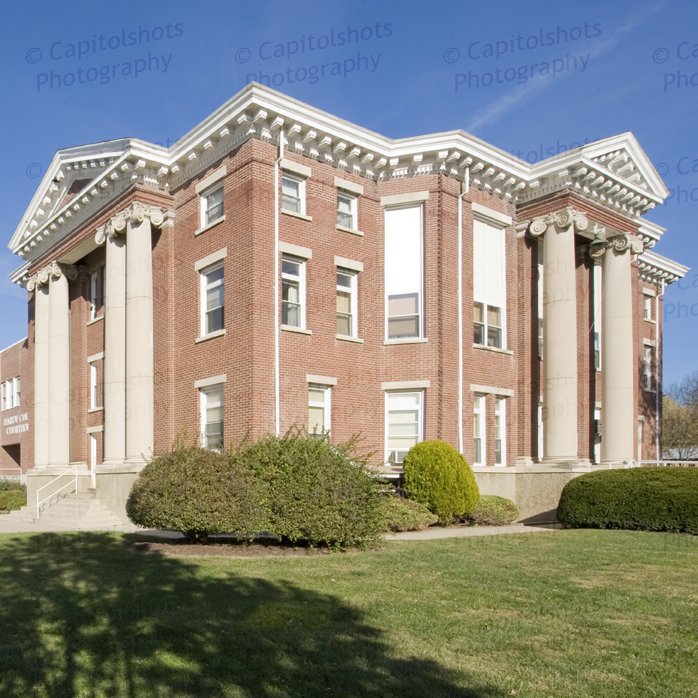 Backstory and Context
On March 1, 1786, the Virginia legislature voted to partition Hampshire County, creating Hardy County. The partition was necessitated by the difficulties in transportation arising from the mountainous terrain and relative isolation of the South Branch region from Virginia. The town of Moorefield, named for Conrad Moore, sought incorporation from the Virginia legislature, becoming the county seat. On March 7, 1786, a meeting at the home of William Bullitt, allowed the Sheriff to contract the lowest bidder for the construction of a courthouse. This first incarnation of the courthouse was a small, one story log cabin.
The next Hardy County Courthouse, built in 1792-93 by Abel Seymour, is located at the intersection of Winchester and (now) South Elm Streets. This structure is brick and boasts three stories. In 1833, additions were made to the building which functioned as the courthouse until 1860. Since this time, it has housed a girl's boarding school, offices, and apartments. Today, it still stands and functions as apartments.
The third Hardy County Courthouse was built in 1859-60 on South Main street. Designed by Col. Jno. B. Baldwin, plans drawn by William A Pratt, and built by William Eberly, the structure still stands today. However, it has been greatly altered through the years, including the addition of store fronts, the building has served as retail space and apartments.
During the Civil War, the court was only convened once at the home of John Mathias on May 2, 1864. This log cabin also still stands and has been restored. After the interruption of the War, courthouse functions were returned to the South Main Street location until the construction of the fourth and present Hardy County Courthouse at 204 Washington Street.
Construction at this location took place from 1911 until 1914. The Washington, DC architectural firm of Millburn, Heister, and Company were contracted for the job. Court business officially began at this location on August 25, 1914. For two years, from 1920 to 1922, Methodist Church services were held in the courthouse. In 1985, the building received significant restoration and an addition to the north side. These improvements were made by the Charleston firm of Grandee, Thomas, and Sprouse, and other than the northern addition, the building remains unchanged from the original plan. A hand-carved, wooden seal of West Virginia was made by local citizen, Eddie Simpson, was installed in June of 2013.