Eastern Columbia Building
Introduction
Constructed in 1930, the Eastern Columbia Building, now known as the Eastern Columbia Lofts, is a thirteen-story Art Deco building that was designed by Claud Beelman. It cost around $1.25 million to build and it became the headquarters of the Eastern Outfitting Company a chain of furniture and clothing stores founded by Adolph Sieroty and family. The building is an amazing example of Art Deco architecture in the city and it is one of the most photographed structures. An $80 million renovation took place in 2006 and was undertaken by the KOR Group to turn the property into 147 condominiums. The project earned California Construction Magazine's Best Redevelopment in 2007.
Images
A night time shot with the Columbia on the right.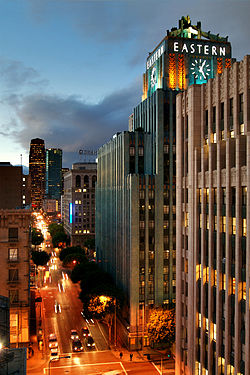 The entrance way to the building.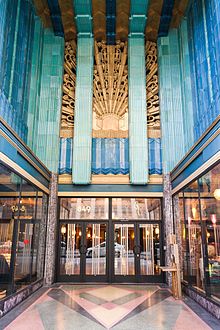 Backstory and Context
The Eastern Columbia Building is surrounded by rich historical architecture and has four historic-cultural landmarks immediately adjacent: The Orpheum Theater, The May Company Garage, Blackstone's Department Store, and the Federal Savings Building. There has been an ongoing political dispute since 2015 over a plan proposed on the adjacent plot - a 26 storey Alexan Broadway project at 9th and Hill Streets, that has faced some opposition because of concerns that it would block views of the Eastern Columbia and its landmark clock.
The building has been described by the L.A. Downtown News as "one of the great grand dames of Art Deco Streamline Moderne in Los Angeles." Other praise comes from figures such as historian Robert Winter who called the building "a shining example of Southern California's golden age of architecture." Christopher Hawthorne, a critic from the L.A. Times called it "one of the most beautiful pieces of architecture in the city", and former president of the Art Deco Society of Los Angeles, Rory Cunningham, referred to the building as "one of the premier Art Deco buildings in the country."
The Eastern's unique design comes from its concrete, reinforced by steel, that has been clad in a glossy turquoise terra cotta. The tallness of the building is expounded by design features such as the deeply recessed windows and vertical columnns. The exterior boasts a plethora of motifs including sunburst patterns, geometric shapes, chevrons, and animal/plants forms. At the top of the building sits a four-sided clock tower with "Eastern" emblazoned across in a neon sign.
Sources
Eastern Columbia Lofts. LA Conservancy. Accessed July 16, 2017. https://www.laconservancy.org/locations/eastern-columnbia-lofts.

Downtown Los Angeles Landmark Wasn't Always a Gem. Curbed. April 23, 2012. Accessed July 16, 2017. https://www.curbed.com/2012/4/23/10377462/downtown-los-angeles-landmark-wasnt-always-a-gem.


Additional Information