Spring Street Courthouse
Introduction
Built between 1937 and 1940 as a Works Progress Administration project, this Los Angeles landmark replaced two previous courthouses nad originally served as both a post office and a federal courthouse. The building was designed by architects Gilbert Stanley Underwood and Louis A. Simon and added to the National Register of Historic Places in 2012. The structure was later designated a National Historic Landmark in 2012 owing to several landmark court cases that were heard in this building. A new federal courthouse replaced this iconic Los Angeles structure, which is now home to government offices and the Los Angeles Superior Court.
Images
A photo of the former federal courthouse with City Hall in the background.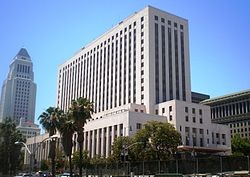 One of several courtrooms in the historic building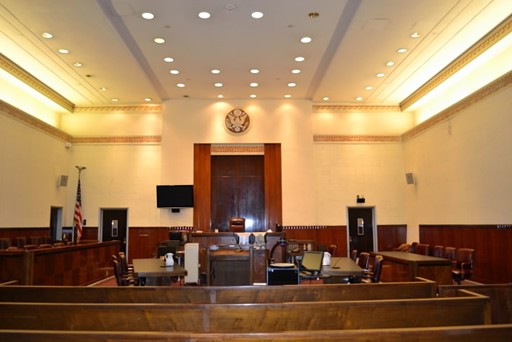 Backstory and Context
This historic structure was the third federal building in Los Angeles and replaced a previous courthouse that was completed in 1892 and served as the post office, District Court, and other federal agencies. After growing in size, a larger building was constructed in 1910 on the corner of Main and Temple. 
As the city's population grew, a larger building was needed to serve as the courts and to house federal agencies. The second federal building was destroyed in 1937 to clear the site for the existing courthouse. Gilbert Stanley Underwood was selected to design the building. He was acclaimed for his public architecture with works in national parks, over two dozen post offices, a number of federal courthouses, and the U.S. Mint in San Francisco. The new courthouse is a stunning example of the Art Moderne architecture style. The defining features are the stepped rectangular shape and restrained use of external ornamentation. The base is polished granite, while the 17-story steel structure has a terra cotta facade. 
Sources
U.S. Court House & Post Office Los Angeles, California. National Park Service. Accessed July 16, 2017. https://www.nps.gov/nr/travel/american_latino_heritage/los_angeles_us_court_house_and_post_office.html.
Historical Decades: The Beginning. CACD. Accessed July 16, 2017. https://www.cacd.uscourts.gov/newsworthy/historical-decades.
New, state-of-the-art federal courthouse officially opens in downtown L.A.. LA Times. Accessed July 16, 2017. http://www.latimes.com/local/lanow/la-me-ln-federal-courthouse-downtown-20161013-snap-story.html.