Shrine Auditorium (Al Malaikah Temple)
Introduction
Built in 1926, the Shrine Auditorium is a huge music and entertainment venue and also the headquarters of the Al Malaikah Temple, a division of the Shriners. The current building replaced an earlier Al Malaikah Temple which was constructed in 1906 but destroyed by a fire in 1920. The new auditorium was designed by San Francisco-based theater architect G. Albert Lansburgh in the Moorish Revival style and could hold 1,200 people on stage with an audience of 6,442. In 2002, the auditorium underwent a $15 million renovation that upgraded the stage with state-of-the-art lighting and rigging systems as well as new roofing and air conditioning, modern concession stands, more restrooms, a new carpark and a repainting. It was designated as a Los Angeles Historic-Cultural Monument in 1975.
Images
A shot of the Shrine Auditorium during sunset.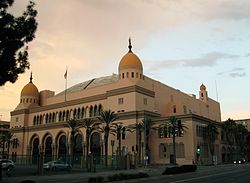 A full house inside the Shrine Auditorium.
Backstory and Context
Many large events have been held at the Shrine Auditorium over the years. In 1947 and 1948, the Academy Awards were held here, as well as an addition eight occasions between 1988 and 2001. It also hosted a handful of Grammy Award's ceremonies until 2000. The Primetime Emmy's were also held here from 1998 to 2008.Other entertainment industry events that Shrine has hosted include the American music awards and Screen Actor's Guild Awards.
The University of Southern California basketball team called the Shrine home for 33 years, with their home court being the building's stage area. The 55th Miss Universe Beauty Pageant also took place here. The Shrine has also been home to many live concerts over the years including Elvis Presley's first L.A. concert. the 1964 recording of Ray Charles Live in Concert album, and the infamous January 27, 1984 incident when Michael Jackson's hair caught on fire while filming for a Pepsi commercial.
Sources
Shrine Auditorium. Famous Wonders. Accessed July 16, 2017. http://famouswonders.com/shrine-auditorium/.

History. Shrine Auditorium. Accessed July 16, 2017. http://www.shrineauditorium.com/history.

Shrine Auditorium. Los Angeles Movie Palaces. Accessed July 16, 2017. https://sites.google.com/site/losangelesmoviepalaces/shrine.

Shrine Auditorium. Cinema Treasures. Accessed July 16, 2017. http://cinematreasures.org/theaters/27701.

No. 139 - Shrine Auditorium. Big Orange Landmarks. May 02, 2008. Accessed July 16, 2017. http://bigorangelandmarks.blogspot.co.uk/2008/05/no-139-shrine-auditorium.html.


Additional Information