Alabama Theatre
Introduction
The Alabama Theatre was built by the Paramount-Publix Corporation in 1927. The theater was originally the only venue in Birmingham to seat over 2,500 people and was also the first public venue in Alabama to have air conditioning, a true selling point during the summer. Originally used for silent films, the theater was equipped with a detailed Mighty Wurlitzer organ. Eventually the theater became less used and went up for sale. The American Theatre Organ Society sought to purchase the organ but the realtors would only sell the instrument along with the theater, which did not stop them. In 1998 the Theatre underwent renovations and is now open to theater, concert, and symphony performances.
Images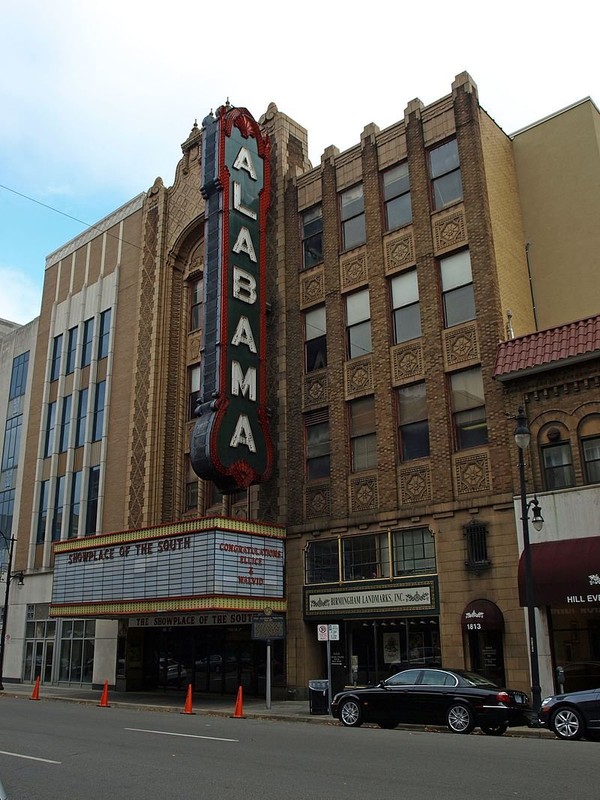 Backstory and Context
The theater was built by Paramount to release its silent films. Because there were several other theater options in the area, Paramount chose to include air conditioning to attract customers.

The Wurlitzer organ was highly sought after, even after the theater fell into disrepair. Because of its rarity, the Alabama Chapter of the American Theatre Organ Society approached the building owners to purchase the instrument. The owners, however, realized this was their chance to sell the building and told the Society that they could only get the organ if they bought the building. As this was the last noted ornate example of the Mighty Wurlitzer, the Society agreed. The Society formed Birmingham Landmarks in 1987 and raised enough money to save both the building and the organ.

The Alabama was restored in 1998. The Theatre still screens classic films. However, they have branched out to allow various cultural engagements such as symphonies, the ballet, and concerts.
Sources
"History." Alabama Theatre. Accessed March 15, 2015. http://alabamatheatre.com/about-the-alabama/history.

Photo: Chris Pruitt, via Wikimedia Commons
https://en.wikipedia.org/wiki/Alabama_Theatre#/media/File:Alabama_Theatre_Nov_2011_01.jpg
Additional Information