Faneuil Hall
Introduction
Faneuil Hall in Boston, Massachusetts was built in 1742 by merchant Peter Faneuil as a gift to the city to support civic and economic life as both a marketplace and a place for public meetings. The original structure was destroyed by fire in 1761 but rebuilt the following year. Similar to some New England merchants in the colonial period, Faneuil owned slaves earned some of his fortune from the slave trade, and some of Boston's earliest slave auctions took place at this location. Despite its connection to slavery, Faneuil Hall was also the location of numerous gatherings by future rebel leaders in the years leading up to the American Revolution. For example, in 1764 this building was the site of a protest against the Sugar Act. As a result of its connection to many patriot leaders, this building is sometimes referred to as the "Cradle of Liberty" and remains one of the most significant sites related to Boston's early history and its connection to the American Revolution.
Images
Faneuil Hall as it looked in 1742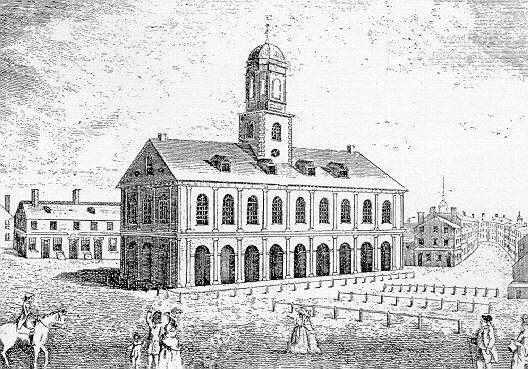 Today, it is a leading tourist spot and home to shopping and social venues. The meeting hall has been preserved and open for interpretive tours.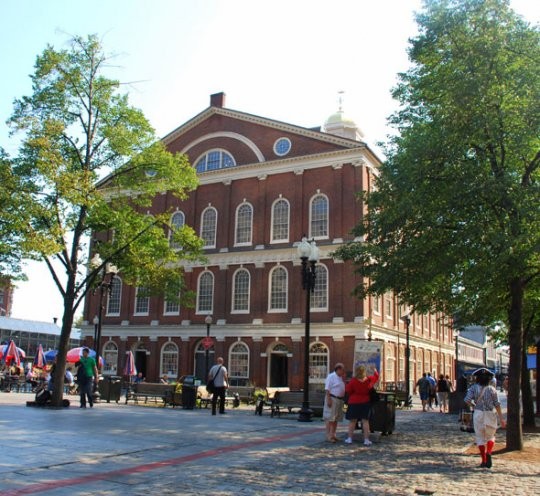 Backstory and Context
In 1740, a Boston merchant Peter Faneuil offered the city council a donation of a substantial building for a market house that would be a gift to the people of Boston. While there was some opposition to building a market house, Faneuil's notion was accepted by the majority of seven councilmen. In 1764, Faneuil Hall was the scene of the most significant protest against British rule to that time when citizens protested the Stamp Act and the Sugar Act. The building was home to public meetings of all sorts, and as a result, many of the meetings and protests against British rule in the next decade also occurred here. Many supporters of independence gave speeches at Faneuil Hall, including Samuel Adams. Today, a statue of Adams that stands at the entrance to Faneuil Hall.
While most of history focuses on Faneuil Hall as the meeting place of the Revolution, the building's main purpose was to support economic development. Details of the building's construction demonstrate its connection to trade, including the grasshopper weather vane as the insect was a symbol of commerce at this time. Originally, the first floor of Faneuil Hall served as a market and the second floor served as the government hall. The top floor served as an armory for the town's protection. In 1806, the hall expanded to hold offices and a large assembly room on the top floor.
Faneuil Hall was renovated in 1806 and 1989. In 1960, Faneuil Hall was registered as a National Historic Landmark and was restored in 1992. Today it still operates as a marketplace as part of a much bigger complex known as the Faneuil Hall Marketplace, which includes three long granite buildings: North Market, Quincy Market, and South Market. The complex itself is an indoor/outdoor mall and a food eatery. Here one can shop, get a bite to eat and even get a feel of what life was like in Boston during the 18th Century.   
Sources
Faneuil Hall. National Park Service. Accessed June 22, 2017. http://www.nps.gov/bost/historyculture/fh.htm.
Faneuil Hall, National Park Service. Accessed March 31st 2020. https://www.nps.gov/bost/learn/historyculture/fh.htm.
Faneuil Hall, The Freedom Trail. Accessed March 31st 2020. https://www.thefreedomtrail.org/trail-sites/faneuil-hall.
Additional Information