Ximenes Chapel
Introduction
For San Antonio's Mexican-American community, the Ximenes Chapel holds important cultural and religious significance. It has long been a place for pilgrimage and prayer. Many who have worshipped here have claimed have had their prayers answered and as a result, the chapel is known as the "Chapel of Miracles." It was originally built probably in the mid-19th century. Unfortunately, a fire destroyed it in the 1920s but it was rebuilt. Another fired severely damaged it in 2014 but it has since reopened. It was added to the National Register of Historic Places in 1980.
Images
The Ximenes Chapel was built in the 1920s is an integral part of the Mexican-American community.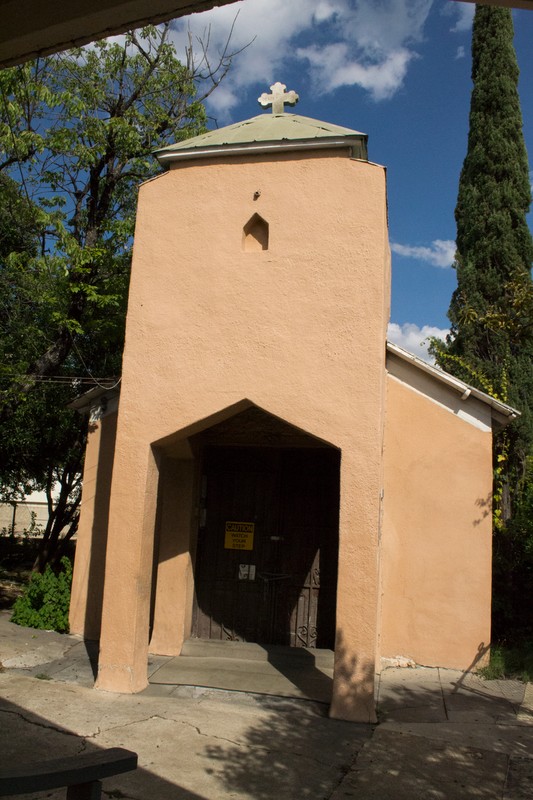 Backstory and Context
The chapel stands on land once owned by Juan Jimenez, a soldier in the Texas Army who fought in the Battle of Bexar, the first major battle of the Texan Revolution, which eventually terminated Mexican rule in Texas in 1836 (the Republic of Texas was then established but was eventually annexed by the United States in 1845, a development that led to the Mexican-American war). The land was part of a royal Spanish land grant to the city. Jimenez bought the property in 1852 and at some point acquired a crucifix which appears to date back at least to 1813. It was common for Hispanics to set aside space for a chapel or some other place of worship—where people could pray to saints—either in their houses or on the property.
Sources
Cadena, Gloria. "Ximenes Chapel." Accessed July 11, 2017. National Park Service - National
Register of Historic Places Nomination Form. https://atlas.thc.state.tx.us/NR/pdfs/80004080/80004080.pdf.

Levy, Abe. "Pilgrims feel loss of San Antonio chapel's closure." San Antonio Express-News. Apr 20, 2014. http://www.theeagle.com/news/texas/pilgrims-feel-loss-of-san-antonio-chapel-s-closure/article_88ba92...

Photo: 25or6to4, via Wikimedia Commons