Former Chicago & Northwestern Train Station
Introduction
The Janesville area was in a prime location for developing railways during the nineteenth century. Competition occurred between several companies before two branches absorbed the others: the Milwaukee Road and Chicago & Northwestern Railway Company.
Images
Chicago & Northwestern Railway passenger depot.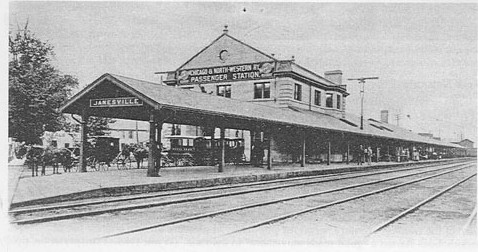 Backstory and Context
Northwestern railway was established in 1864 after the Rock River Valley Union Railroad was combined with other smaller routes in Illinois and Wisconsin. This address was the former location of the passenger train station in Janesville. They had built two structures here over the years, with the last depot constructed in 1898. The structure does not exist today.
Even though Janesville was the center of railways for many years, after World War II the popularity of train travel declined in favor of automobiles. Subsequently, passenger service on the Chicago & Northwestern railway halted in 1965. 
Sources
Cartwright, Carol Lohry; Shaffer, Scott; Waller, Randal
City on the Rock River : chapters in Janesville's history 
Janesville, Wisconsin: Janesville Historic Commission, 1998 
268 p.