Briscoe-Garner Museum
Introduction
The Briscoe-Garner Museum is dedicated to the remarkable lives of John Nance "Cactus Jack" Garner and Dolph Briscoe, both Uvalde natives and historically important political figures from Texas. The museum is located in the house that served as John Nance Garner's home for more than thirty years.
Images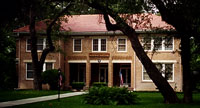 Backstory and Context
John Nance Garner was speaker of the U.S. House of Representatives during the last two years of Herbert Hoover's presidency (1931–1933) and vice president during President Franklin D. Roosevelt's first two terms (1933–1941). Garner was a dominant national political figure who played a critical role in the passage of much of the New Deal legislation aimed at alleviating or ending the most severe economic crisis in U.S. history. The Briscoe Center archives include the extensive John Nance Garner Scrapbook Collection, the only significant body of Garner papers that exists.


Garner served as a political inspiration and mentor to Dolph Briscoe
who was a member of the state legislature from 1949 until 1957. Briscoe was elected governor in 1972 and served through the oil-boom years of the 1970s, during which he increased spending for highway improvements, signed into law the Texas Open Records Act and streamlined state agencies. He was one of the state's leading ranchers and president of the Texas and Southwestern Cattle Raisers Association. In 2008, The University of Texas at Austin announced the naming of its Center for American History after Gov. Briscoe, in recognition of his support for preserving and promoting Texas and U.S. history.
The Briscoe Center plans to maintain the existing exhibit space devoted to Garner on the museum's first floor, and create new exhibits dedicated to Briscoe on the second floor, which previously had been closed to the public.