Deborah Sampson Statue
Introduction
Deborah Sampson famously disguised herself as a man to fight in the Continental Army during the American Revolution. Calling herself Robert Shurtleff, she enlisted in the 4th Massachusetts Regiment and soon went to fight in the Hudson Valley. After surviving two gunshot wounds, Sampson developed a fever in 1783. Dr. Barnabas Binney discovered her secret during her hospitalization, and after recovering, she was honorably discharged. A 1797 work by Herman Mann, entitled "The Female Review: or, Memoirs of an American Young Lady" chronicles her experiences; you can find it at the links below. Deborah Sampson is today remembered as a "Daughter of Liberty" and honored with several statues such as this one, in Sharon, Massachusetts.
Images
The statue stands in front of the Sharon Public Library (History of Massachusetts)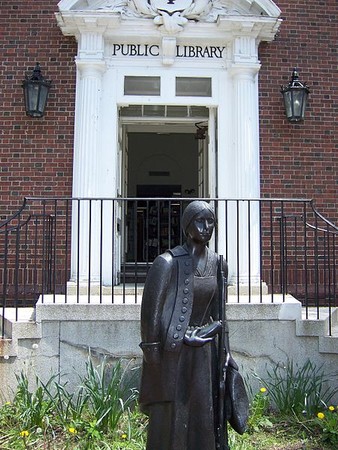 Backstory and Context
Early Life
Born in Plympton, Massachusetts on December 17, 1760, Deboarah Sampson was the oldest of seven children. Both of her parents, Johnathan Sampson, Jr. and Deborah Bradford, were descended from well-known Pilgrims: Myles Standish and William Bradford respectively. Nonetheless, they struggled to make ends meet, especially after Jonathan left on a sea voyage and never returned. Deborah worked as an indentured servant from age 10 to 18. In 1779 and 1780, she found summer employment as a teacher.

Revolutionary War
After making a coat, waistcoat, and breeches, Sampson joined the Continental Army in 1782 under the alias Robert Shurtleff. She belonged to Captain George Webb's Company of Light Infantry, for which she performed scouting operations, led a raid on a Tory house, and participated in the siege of Yorktown. Her biographer Herman Mann, who interviewed Sampson after the war, details the trials of life as a soldier:

Our fair soldier, with some others, came near losing her life by drinking cold water. She says she underwent more with fatigue and heat of the day, than by fear of being killed; although her left-hand man was shot dead at the second fire, and her ears and eyes were continually tormented with the expiring agonies and horrid scenes of many others struggling in their blood. She recollects but three on her side who were killed, John Beebe, James Battles and Noble Sperin. She escaped with two shots through her coat, and one through her cap.

She now says no pen can describe her feelings experienced in the commencement of an engagement, the sole object of which is to open the sluices of human blood. The unfeigned tears of humanity has more than once started into her eyes in the rehearsal of such as scene as I have just described. [available on Archives.org; quoted partially in Brooks].

Sampson successfully kept her identity concealed for a year and a half, even despite severe injuries. In one instance, she removed a pistol ball from her own leg. Dr. Barnabas Binney found out her disguise when he treated her in 1783. According to Mann, Binney allowed Sampson time to recuperate before entrusting her with a letter--which identified her as female--to deliver to General Patterson. Mann writes that Sampson then admitted to her deceit:

She proceeded to give a succinct and true account; and concluded by asking, if her life would be spared! [General Patteron] told her, she might not only think herself safe, while under his protection, but that her unrivalled achievements deserved ample compensation – that he would quickly obtain her discharge, and she should be safely conducted to her friends. [available on Archives.org; quoted partially in Brooks].

After the War
Upon her honorable discharge on October 23, 1783, Sampson made her way back to Massachusetts, where she married Benjamin Gannet, who hailed from Sharon, MA. Her biography, The Female Review by Herman Mann, was published in 1797. She subsequently set out on a public speaking tour in the Northeast. After lengthy efforts, and with the support of Paul Revere, Sampson finally received a military pension. She died in 1827, and is buried in Rock Ridge cemetery in Sharon.


Sources
Brooks, Rebecca. "Deborah Sampson: Woman Warrior of the American Revolution." History of Massachusetts. December 29, 2011. Accessed July 10, 2017. http://historyofmassachusetts.org/deborah-sampson-woman-warrior-of-the-american-revoultion/.

"Deborah Sampson." Encyclopædia Britannica. Accessed July 12, 2017. https://www.britannica.com/biography/Deborah-Sampson.

Michals, Debra. "Deborah Sampson (1760-1827)." National Women's History Museum. 2015. Accessed July 12, 2017. https://www.nwhm.org/education-resources/biography/biographies/deborah-sampson.



Additional Information