San Fernando Building
Introduction
Built in 1906, the San Fernando Building is an Italian Renaissance Revival style building. It was commissioned by James Boone Lankershim, a wealthy wheat farmer and miller whose father owned much of the San Fernando Valley in the late 19th Century. Construction cost a reported $200,000 and it was designed by John F. Blee. The building opened in 1907 and was considered one of the finest office buildings in the city. It originally had six storys, but two additional stories, designed by Robert Brown Young & Son, were added in 1911. It was listed on the National Register of Historic Places in 1986 and declared a Historic-Cultural Monument in 2002.
Images
A shot of the San Fernando Building as it stands today.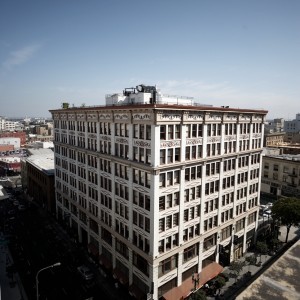 The corner of 4th and Main streets in downtown L.A. in 1926. The San Fernando Building is in the foreground at right.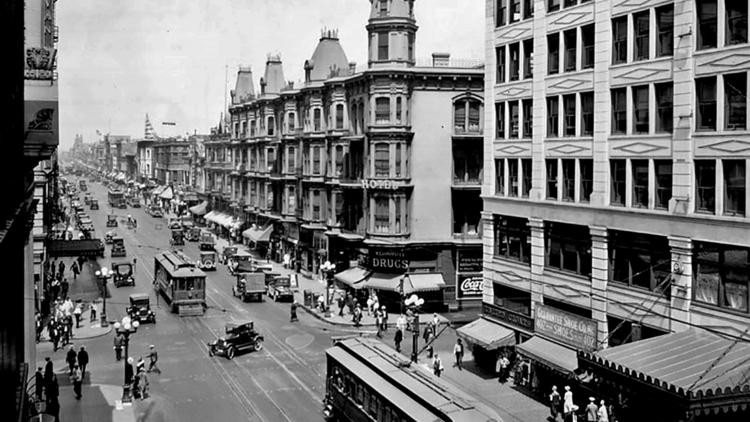 Backstory and Context
In its early years, the building had a reputation for illegal gambling, resulting in several raids from the police. The gamblers were clever, however, and due to tip-offs, were never caught, and no evidence of gambling was ever discovered by the police. The building was raided again in 1930 and eleven men were arrested for being involved in an illegal lottery operation. A female was also arrested for being in possession of alcohol as this was during the time of prohibition.
The building was described by the LA Times as the home of illegal lottery operations. Police found thousands of tickets for various sweepstakes as well as other gambling activities such as baseball pools and "bank-clearing guessing ventures". The police also thought that someone involved robbed a bank but the money was never recovered.
In addition to its association with gambling and lotteries, the San Fernando Building was known for the many legitimate businesses operating there, including: the Los Angeles Realty Board and the California State Realty Federation, the city's first cooperative telephone exchange, The California Film Exchange, the "Half Century Association", and even the U.S. army.
The building was listed on the National Register of HIstoric Places in 1986 and was designated a Historic-Cultural Monument by the Los Angeles Cultural Heritage Commission in 2002.
Sources
San Fernando Building. LA Conservancy. Accessed July 09, 2017. https://www.laconservancy.org/locations/san-fernando-building.

Richardson, Eric. Old Bank District's San Fernando Lofts Turn Ten. Blog Downtown. August 19, 2010. Accessed July 09, 2017. http://blogdowntown.com/2010/08/5594-old-bank-districts-san-fernando-lofts-turn.

The San Fernando Building. SFB Lofts. Accessed July 09, 2017. http://www.sfblofts.com/.

Khouri, Andrew. Building at the center of downtown L.A.'s resurgence is getting a makeover. What's next?. LA Times. June 08, 2016. Accessed July 09, 2017. http://www.latimes.com/business/la-fi-downtown-sale-20160603-snap-story.html.