Martinsville Speedway
Introduction
Now home to one of the most legendary racetracks in America, Martinsville Speedway dates back to 1947 when H. Clay Earles carved a dirt track out of the hard Henry County clay. The track held its first race on July 4th, 1947. NASCAR was formed a year later. This is the only current NASCAR track that has hosted an event during each year of NASCAR's existence and it continues to thrill race fans with races held throughout the year including the leading NASCAR series.
Images
Denny Hamlin with his iconic Grandfather Clock trophy
Martinsville Speedway is the only remaining track on the NASCAR series that dates back to the founding of NASCAR.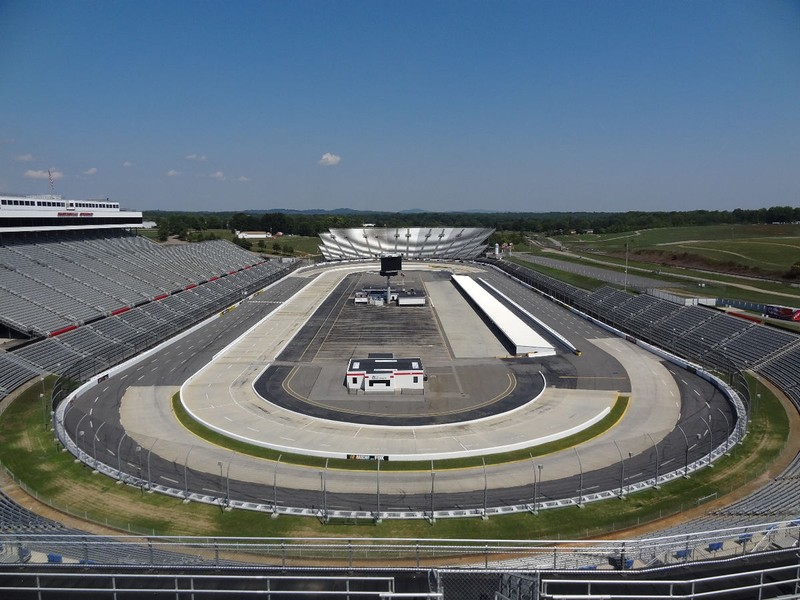 Backstory and Context
This historic half-mile track is nicknamed the "Paper Clip" because of its distinct oval shape. It is the shortest track in the Monster Energy NASCAR Cup Series. Founder H. Clay Earles was known for his dedication to racing and the constant improvements he made to the track that would come to be known as Martinsville Speedway. The track is currently operated by Earles' grandson, W. Clay Campbell, who has been the track's president since 1988. Martinsville Speedway was purchased by International Speedway Corporation in 2004 but Earles continues to make many of the day-to-day decisions.

One tradition at Martinsville is the now-infamous pink hot dogs. These dogs usually came covered in chili, slaw, and onions. In 2015, a new vendor made some changes to the pigmentation of the dogs but the Martinsville track is still revered as a unique place to grab a hotdog by foodies and racing fans. Another unique tradition has to do with the design of the trophy awarded to the winner of each race- a custom grandfather clock. The first clock was given out in 1964 and the tradition continues to this day. It has been said that every driver who competes at Martinsville has a place in their home already selected to hold the clock should they win the race.

Sources
"Martinsville Speedway History." Martinsville Speedway. Accessed July 07, 2017. http://www.martinsvillespeedway.com/The-Speedway/History.aspx.
McGee, Ryan. "More than just a snack." ESPN. March 28, 2015. Accessed July 07, 2017. http://www.espn.com/racing/nascar/story/_/id/12570532/change-martinsville-famed-red-hot-dogs-talk-na....

"Martinsville's Iconic Trophy Celebrating 50th Anniversary." Martinsville Speedway. October 20, 2014. Accessed July 07, 2017. http://www.martinsvillespeedway.com/Articles/2014/10/clock102014.aspx.
Additional Information