David Robinson home (2008-2014)
Introduction
This mansion is the previous home of David Robinson, star basketball player for the U.S. Naval Academy and the NBA's San Antonio Spurs. Robinson is recognized as one of the greatest players in the history of the NBA and is enshrined in the professional basketball Hall of Fame in Springfield.
Images
David Robinson in the Pro Basketball Hall of Fame.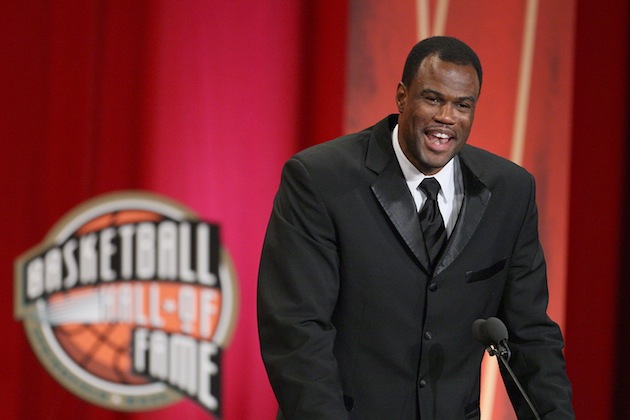 David Robinson enrolled in the U.S. Navy Academy and served a two year tour after his graduation.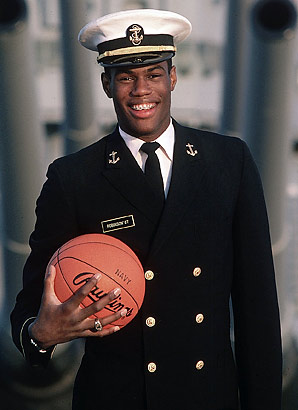 David Robinson won an MVP during his NBA career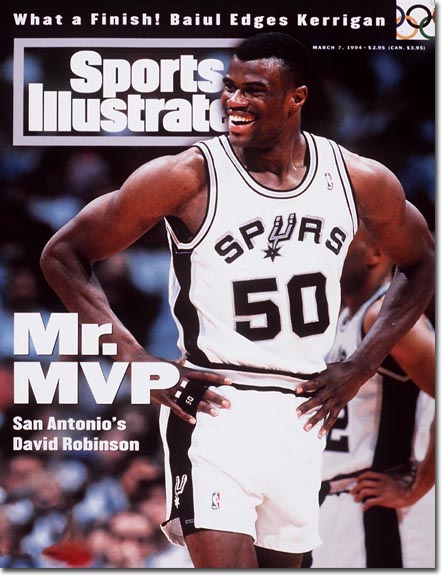 Backstory and Context
Nicknamed "The Admiral", Robinson played for 14 seasons for the Spurs, averaging 21 points per game, 10 rebounds per game, and three blocks per game in just under 1000 total games for his career. Standing at 7'1" and 235lbs, Robinson has been dubbed one of the greatest players ever at the center position. During his career, he played against some of the other greatest centers of all time in Hakeem Olajuwon, Patrick Ewing and Shaquille O'Neal.
David Robinson was born on 08/06/1965 in Key West, FL. His father was served in the U.S. Navy and his mother was a nurse. Growing up in a military family, Robinson was moved around several times and eventually enrolled at the U.S. Naval Academy in Annapolis, MD. Robinson never played the sport of basketball until his last year of high school. While at the Naval Academy, Robinson continued with his young basketball career by playing for the Navy. In between his freshmen and sophomore years, David Robinson grew seven inches to 7'1" and dominating all the way up to his senior year, averaging 28 points and 11 rebounds a game. Despite being drafted number one overall by the San Antonio Spurs in the 1987 NBA Draft, Robinson had to fulfill his two year commitment in the U.S. Navy before being allowed to play. Robinson was drafted ahead of other hall of fame basketball players; Reggie Miller, Scottie Pippen and Reggie Lewis.
After waiting for his two-year Naval commitment to expire, the San Antonio Spurs had one of the biggest turn arounds ever going from a 21-61 record without David Robinson to a 56-26 record during the first season of having him play on the court. Robinson is often over-looked as being an all-time great to some critics despite being one of two players to win scoring, rebounding and blocked shots titles throughout a career, joining only Kareem Abdul-Jabbar. Robinson was a member of the 1992 Olympic "Dream Team" alongside Michael Jordan, Magic Johnson and Larry Bird. The Dream Team never lost a game in the Olympics and steam rolled through other teams in route to a gold medal. Aside from winning a gold medal in the 1992 Olympics, Robinson has also been honored with being a league MVP, Defensive Player of the Year, Rookie of the Year, All-NBA First Team, All-NBA Second Team, All Defensive Team, a 10 time NBA All-Star, a 3 time Olympian and was recognized in 1996 as being one of the top 50 players to ever play in the NBA. Robinson finished his career with the San Antonio Spurs and won a total of two championships with the club, alongside another all-time great, Tim Duncan.
After retiring from the NBA, David Robinson has continued to help the community in San Antonio, TX. The Carver Academy, a public charter school located in the city was founded by David Robinson in 2001. Robinson has donated up to 10 million dollars of his earnings from his playing days to the school. The Carver Academy is a private Christian school that starts kids off at a young age to learn in a family style environment. In 2012, the school transitioned into a tuition-free school. Robinson has also served on the boards of the USAA Federal Savings Bank and the United States Naval Academy Foundation and Centerplate. Among many other accolades, David Robinson is the co-founder of the Admiral Capital Group, a financial and advising firm based in the San Antonio area.
Sources
"David Robinson." Biography.com. February 04, 2016. Accessed July 07, 2017. https://www.biography.com/people/david-robinson-21101291.


Schawbel, Dan. "David Robinson: His Voyage From The NBA To Venture Capital." Forbes. March 09, 2014. Accessed July 07, 2017. https://www.forbes.com/sites/danschawbel/2014/01/22/david-robinson-his-voyage-from-the-nba-to-ventur....


David Robinson Bio.
NBA.com.
Accessed July 07, 2017. http://www.nba.com/history/players/robinson_bio.html.