Veterans Memorial Coliseum, Portland
Introduction
Constructed in 1961, Veterans Memorial Coliseum is listed on the National Register of Historic Places in recognition of its architectural significance. The stadium was the original home of the Portland Trailblazers and has been preserved despite numerous proposals to replace the arena.
Images
This historic photo of the arena shows a very different view of downtown Portland prior to the construction of numerous downtown buildings and the Moda Center.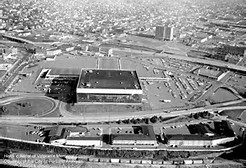 Completed in 1961, this stadium was the original home of the Portland Trailblazers.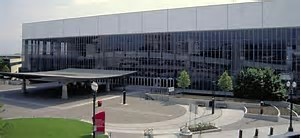 Backstory and Context
Construction of this arena began in 1960 and was completed 1961 following a 1954 voter-approved bond that approved eight million dollars for the facility The arena was dedicated to the memory of "our veterans of all wars who made the supreme sacrifice" and includes a war memorial consisting of two Black granite walls below ground level near the main entrance. The City of Portland owns the facility, which was the largest multi-purpose facility of its kind in the Pacific Northwest for several decades.
The arena is now home to the Portland Winterhawks ice hockey team. The arena was the original home of the Portland Trail Blazers when the city received a franchise of the National Basketball Association (NBA) in 1970. The Trail Blazers relocated to their current facility after the 1992 season. That arena was first known as the Rose Garden and is now the Moda Center. Veterans Memorial Coliseum has also been the home of the Portland Buckaroos of the Western Hockey League
The stadium was a state-of-the-art facility in its first decades, which is why it was selected to host the 1965 NCAA Division I Men's Basketball Tournament. On November 1, 1974, Gerald Ford became the first President of the United States to attend an NBA game at this arena.

The Portland Timbers indoor soccer team played in the coliseum, as well as the Portland Power of the American Basketball League. High school basketball, hockey, dance and drill team competitions, and even graduation ceremonies have also been held at the facility. Some of the more significant non-athletic events that have been held at the facility include concerts by the Beatles (1965), Led Zeppelin (1970 & 1972), Elvis Presley (1973), and the Bee Gees (1979). President Barack Obama spoke at the arena in March, 2008.
Sources
Federal Reserve Bank of Minneapolis Community Development Project. "Consumer Price Index (estimate) 1800–". Federal Reserve Bank of Minneapolis. Retrieved January 2, 2017.
Portland Tribune (August 9, 2016). "Screens play at Memorial Coliseum". portlandtribune.com. Retrieved August 10, 2016. For basketball, the coliseum still seats 12,666 — a magic number from the years and years of Trail Blazers sellouts — and seating capacity
Additional Information