Split Rock (Pelham Bay)
Introduction
Located in Pelham Bay Park, Split Rock is a glacial boulder that has quite the history. Apparently, the Rock was the location where, in 1643, Anne Hutchinson hid with her daughter, Susannah, before they were discovered by the Siwanoy Native American tribe. The Siwanoy tribe killed Hutchinson, but it is widely accepted today that Susannah was raised by the Siwanoy tribe. Later, during the American Revolution, Split Rock Road, leading up to the boulder, was used by Colonel John Glover to defend against a British attack which would have squashed George Washington's main force had Glover not been at his defense.
Images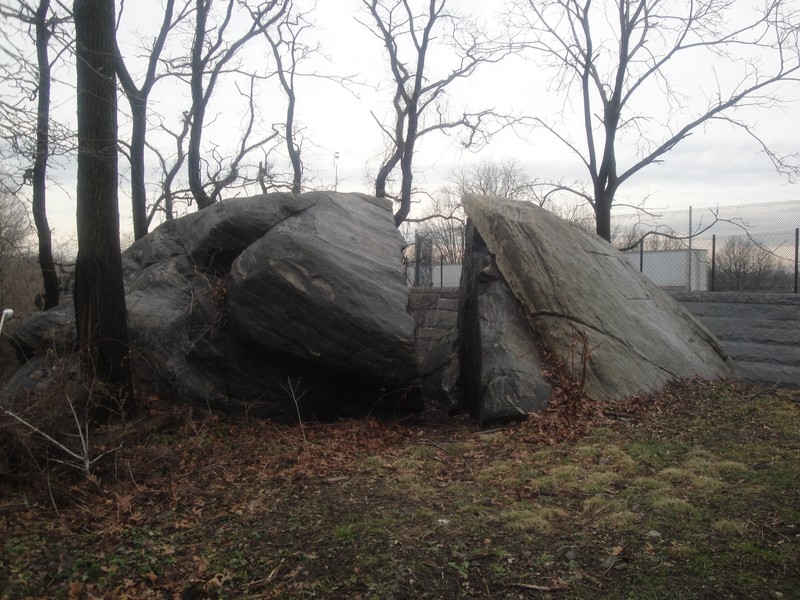 Backstory and Context
Anne Hutchinson and Susannah

Born in England, Anne Hutchinson moved to the Massachusetts Bay Colony with her husband in 1634. While in Massachusetts Bay, Hutchinson followed the religious teachings of John Cotton. Believing that people reached salvation through their own internal understanding, she began spreading her message and own interpretations of Cotton's sermons. However, she was soon challenged by the local patriarchal authority in the Colony, and she was banished from Massachusetts Bay in 1637 after being convicted of sedition.

After leaving the Colony, Hutchinson moved with her husband and some of her followers to present-day Rhode Island. Her husband died in 1642, and Hutchinson moved near present day Pelham Bay, New York. She was killed by the Siwanoy Native American tribe in 1643. Her child, Susannah, survived the attack and was raised by the tribe. During the attack by the Siwanoys, Hutchinson and Susannah hid between Split Rock before they were discovered.

The Battle of Bell's Point

The Battle of Bell's Point was a significant battle during the American Revolution where a Patriot army defended George Washington's retreat from Manhattan after his army was defeated in Manhattan and Brooklyn. The Patriot army at Pell's Point was led by Colonel John Glover, and Washington was pursued by General Sir William Howe. Colonel Glover was able to hold off a flanking move by General Howe by launching surprise attacks on the British forces of about 4,000 soldiers.

Of these attacks, the most intense fighting occurred at Slit Rock Road, where the Patriot soldiers used the brick wall that lined the road as a shield. The defending forces led by Colonel Glover were made up of about 750 men. Outnumbered, Colonel Glover was eventually forced to retreat across the Hutchinson River. However, his mission was successful, as Washington was able to escape to White Plains with the main army.


Sources
"Pelham Bay Park Highlights." NYC Parks. Accessed Web, 7/7/17. https://www.nycgovparks.org/parks/pelham-bay-park/highlights/11662.

"Anne Hutchinson." Britannica. 3/31/17. Accessed Web, 7/9/17. https://www.britannica.com/biography/Anne-Hutchinson.

"People & Ideas: Anne Hutchinson." PBS. Accessed Web, 7/9/17. http://www.pbs.org/godinamerica/people/anne-hutchinson.html.

Osborn, David. "The Battle of Bell's Point." National Park Service. Accessed Web, 7/9/17. https://www.nps.gov/sapa/learn/historyculture/upload/Battle%20of%20Pells%20Point.pdf.