Al & Bruce Adams Family Recognition Wall, LSU
Introduction
Located next to Tiger Stadium, this wall includes plaques of Louisiana State University football players who were selected by sports writers and coaches to the honorary All-America team throughout the 20th century. Players honors on this wall include Gus Tinsley, the first consensus All-American in LSU history, who returned to LSU to coach the Tigers from 1948 to 1954. There is also a plaque for Max Fulger, who served as both the center on offense and a defensive tackle through multiple seasons when the Tigers were practically unbeatable in the 1950s.
Images
Plaque for Marvin "Moose" Stewart.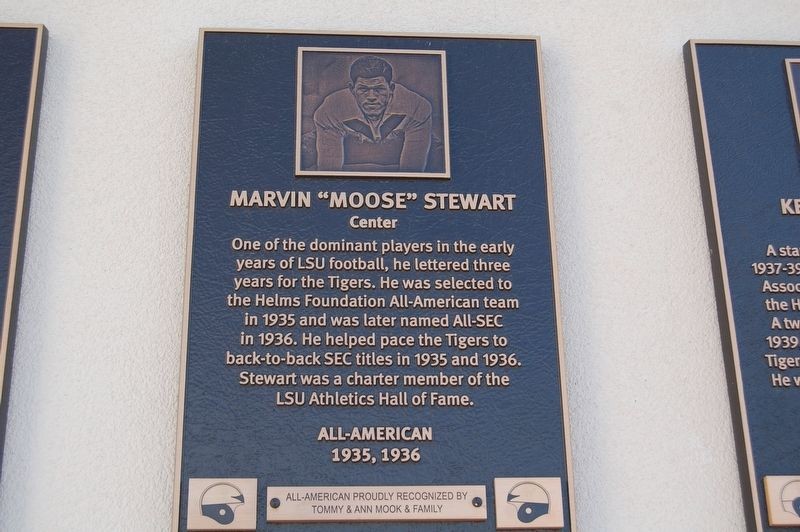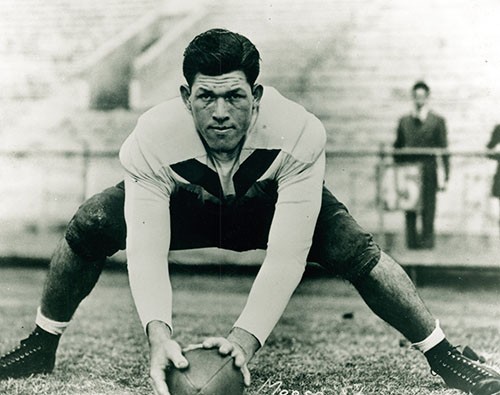 This wall of plaques details the careers of many early Tiger players including those who went on to careers beyond football.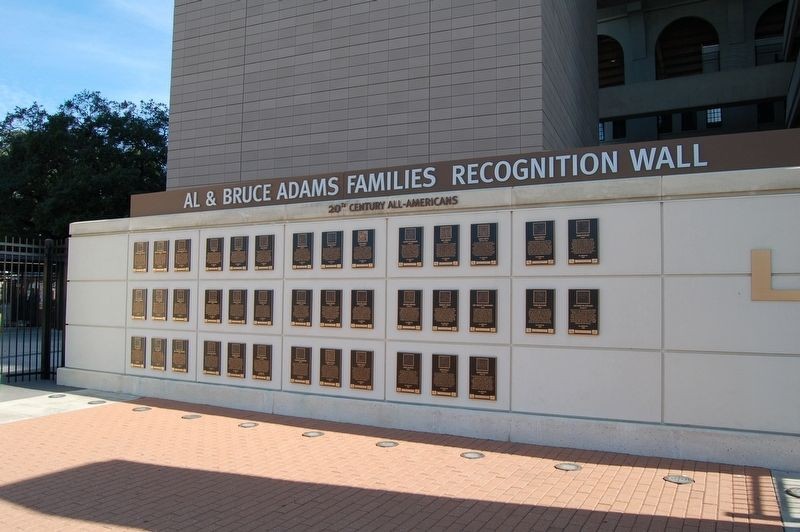 Backstory and Context
The wall contains numerous plaques that honor many outstanding LSU players such as 1962 NFL MVP Jimmy Taylor. There are entries for many players prior to World War II, such as Marvin "Moose" Stewart. Stewart was one of the most dominant football players in the early years of college football. In 1937, Stewart became a charter member of the LSU Athletic Hall of Fame. He lettered three years while at Louisiana State University and was drafted by the Chicago Bears in 1937. Owing to the low salaries, poor reputation, and danger of playing professional football in these years, Stewart declined the opportunity to play professionally.
Marvin "Moose" Stewart was born on September 25, 1912 and is widely recognized as one of the best centers for the Louisiana State University Tigers. Stewart was starting by his second season, and helped lead his team to the Sugar Bowl on two occasions. Stewart was selected as the center on the Early Years Team of the Century for the 100th year anniversary of LSU football in 1993. Marvin "Moose" Stewart passed away on August 30, 2009.
Halfback Jerry Stovall is also honored on this wall. Stovall coached the team
from 1980 to 1983 and earned the National Coach of the Year Award. Stovall played for the Tigers two decades prior to earning the head coaching position and came in second in the balloting for the Heisman Trophy in 1962.
Sources
"Ex-LSU center Stewart dies at 97." ESPN. August 31, 2009. Accessed July 4, 2017. http://www.espn.com/college-football/news/story?id=4435391.

"Marvin Stewart, Former Player." LSU Educational Site. Accessed July 3, 2017. http://www.lib.lsu.edu/sites/all/files/oralhistory/presentations/football/biomarvinstewart.html.



Additional Information