Livery Barn at the Trails and Rails Museum
Introduction
The Livery Barn at the Trails and Rails Museum holds many wagons and horse saddles donated by Buffalo County community members. It was built to shelter the donated wagons from the weather. Inside the barn you will find a fire wagon and a fuel wagon as well as several others. When you visit, can you spot the item most often used by the people traveling the Mormon Trial?
Images
The outside of the Livery Barn.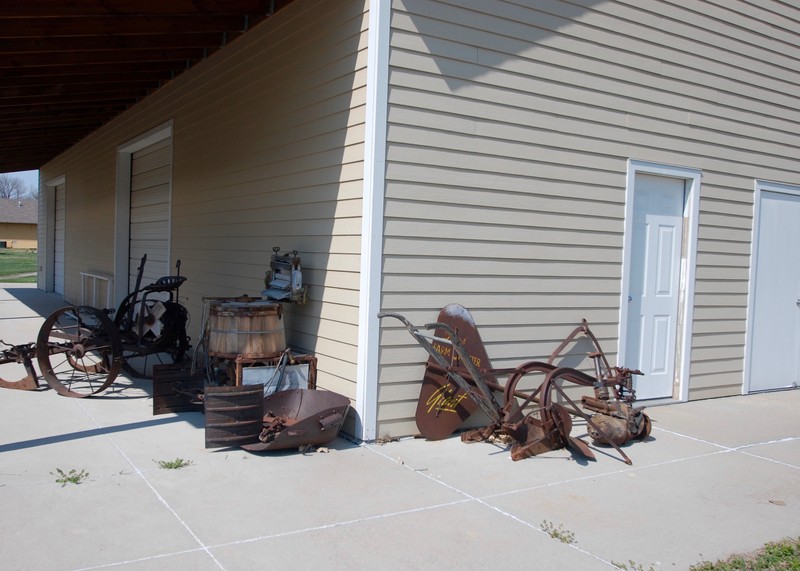 Backstory and Context
There are many wagons inside the Livery Barn at the Trails and Rails Museum that are very familiar to the Nebraska terrain. The Prairie Schooner was the wagon of choice for most people traveling to the West Coast, although it was very similar to the Conestoga Wagon, which was also used to cross the plains.The Prairie Schooner was slightly smaller and lighter than other wagons, and was pulled by two to four horses or oxen which was less than their larger counterparts that required six. These wagons carried everything the family that was traveling West held dear to them. They had to make the most of the space offered to them and sometimes hard choices had to be made; which was more important, clothes or books? Fresh water or blankets? These were important decisions to be made before the they even left their home.


Each town had their own way of handling fires; fire departments as we know them today were not standard across the United States until recently; some were run by volunteers, some were managed by the city government, some were independently run. The Village of Poole, located Northeast of Kearney, Nebraska, used the fire wagon that can be found inside the Livery Barn to help put out fires in and around Poole. The wagon was pulled to the location of the fire, similar to fire engines being driven to the fire, although not as fast and efficient as a fire truck is today!
Sources
Funk & Wagnalls New World Encyclopedia, S.V. "Prairie Schooner," Chicago: World Book, Inc, 2016.

Bruce Hensler, Crucible of Fire: Nineteenth-Century Urban Fires and the Making of the Modern Fire Service (Washington, Potomac Books, 2011), Chapter 1: Origins of Organized Fire Service.

Additional Information