Robins Field, Tupelo
Introduction
Constructed in 1927, Robins Field was home to both the white and Black high school football teams of Tupelo prior to the integration of the schools. The all-white Tupelo High School Golden Wave played on Fridays and the Blue Devils of the all-Black Carver High School played their home games on Saturdays. Integration of the high schools of Tupelo began in the late 1960s and this field was used by the integrated high schools of Tupelo until 1991. The field was named in honor of Tupelo Mayor D.W. Robins.
Images
An aerial photo Robins Field circa 1950.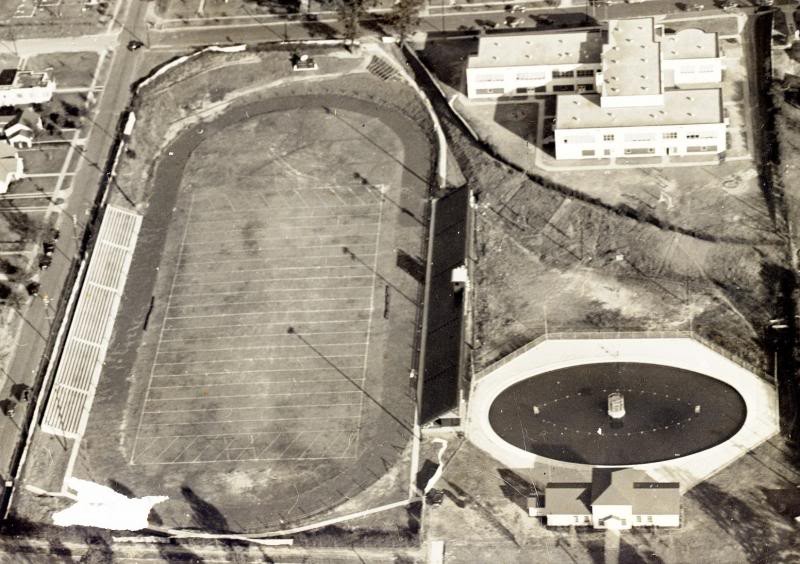 This historic marker commemorates the history of Robbins Field prior to the integration of the schools of Tupelo.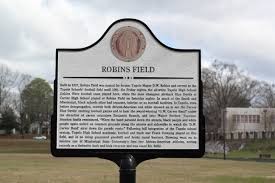 Backstory and Context
Although segregated until the late 1960s, Tupelo was unique from many other cities in the South in one way- Robins Field was used both by both the white and African American teams. In most Southern cities, the Black high school was not allowed to use the athletic facilities that belonged to the city. As a result, many Black athletic teams competed at segregated parks, built their own facilities, or played their home games at YMCA gymnasiums or empty lots.

Owing to the success of Carver High School, white residents attended games such as the all-Black state championships that were held in Tupelo. While Black attendees would be required to sit in a segregated section during the games of the all-white high school, white and Black fans sat among one another during the games played by Carver High.

Despite the unanimous decision of the Supreme Court against school segregation in 1954, Tupelo and other Southern cities remained completely segregated for over a decade. The schools of Tupelo began integration with the "Freedom of Choice" desegregation plan that allowed Black parents some choice as to whether they wanted to send their children to the previously all-white schools or keep them enrolled in the Black schools of their community. Full integration came to Tupelo in the 1970s, but residential segregation continues to make full integration difficult without giving up on the concept of children attending neighborhood schools.

Sources
Guajardo, Rod. Marking history: Pre-integration football at Robins Field commemorated. Daily Journal (Tupelo MS). March 14, 2015. Accessed July 09, 2017. http://www.djournal.com/news/local/marking-history-pre-integration-football-at-robins-field-commemorated/article_5af82eca-9798-5fa3-a9ae-11d7d235b1a2.html.


Additional Information