New York State Pavilion
Introduction
The New York State Pavilion was designed for the 1964-1965 World's Fair, which took place in Flushing Meadows-Corona Park in Queens, New York. The designer was architect Philip Johnson, who was known for his achievements in Modern architecture. The Pavilion measures in at 350 feet by 250 feet, and the ceiling is supported by sixteen 100-foot columnns. When the Fair took place, it recognized the world's achievements in culture and technology by showing how these achievements expanded as the world became more globalized.
Images
The New York State Pavilion Today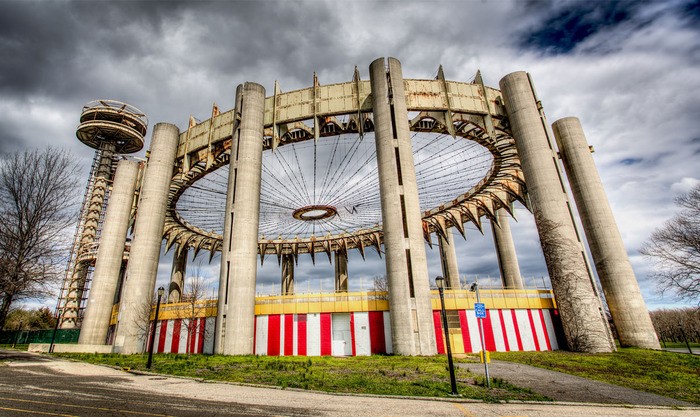 The New York State Pavilion in 1964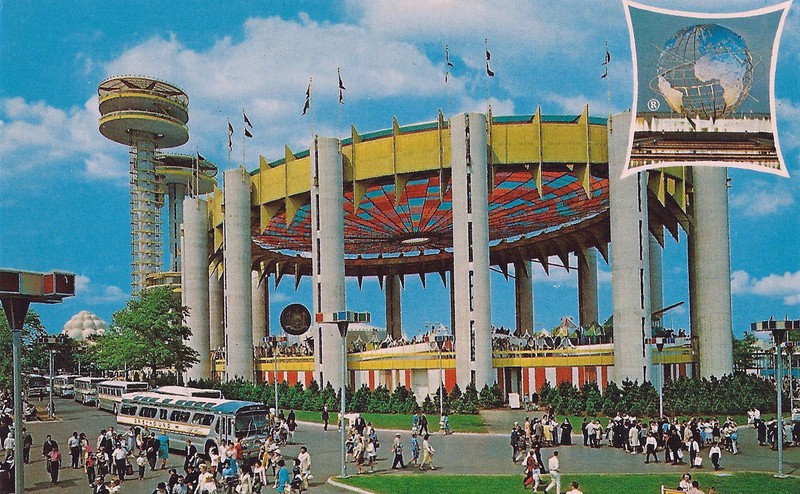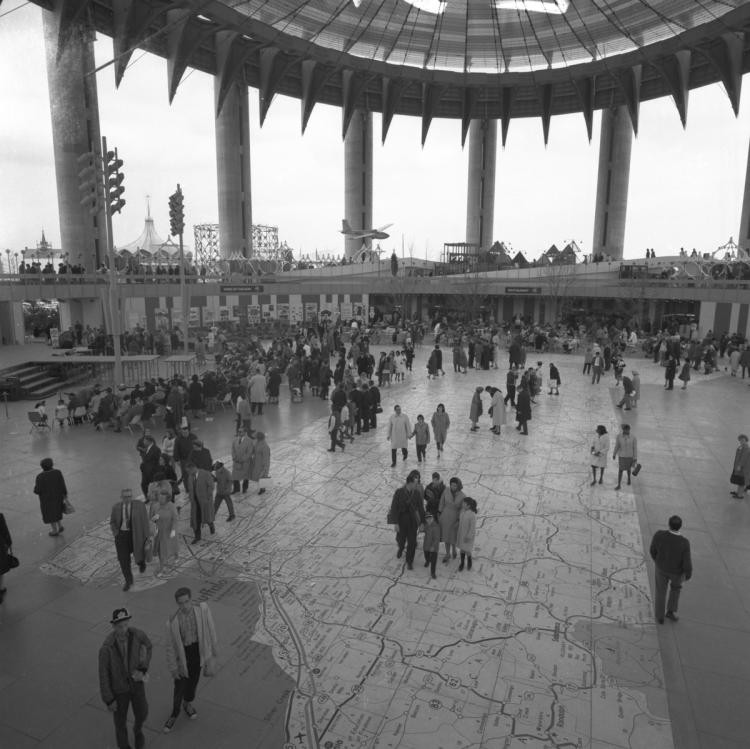 Backstory and Context
Today, the New York State Pavilion serves as a relic for the turbulent and progressive era of the 1960s. The Pavilion was designed by Philip Johnson. Johnson was a Harvard graduate who served as the director of the department of architecture for the Museum of Modern Art (MoMA). Since modernism was his preference, most of Johnson's designs reflected this style. Aside from the New York State Pavilion, Johnson is known for designing the Glass House located in Connecticut, the Seagram Building in Manhattan, and the Crystal Cathedral in California, among many others.

The Pavilion runs 350 feet by 250 feet. An open-air elliptical ring circles 100 foot overhead, supported by sixteen columnns. There are also three observation towers and a theatre built alongside the pavilion. The original roof was removed in 1976 because it was declared unstable, and it was not replaced afterward. This left the elaborate New York State road map, made of terrazzo mosaic panels and created by the Texaco Company, exposed to the weather. After the fair ended, the Pavilion was used as a roller rink for many years.

The theme for the 1964 World's Fair was "Peace Through Understanding." Evident by the Civil Rights Movement and the Vietnam War protests, America was searching for unity in 1964. The World's Fair aimed to bring about some form of unity by displaying culture and technology from New York that served as evidence of global progress. Aside from the terrazzo map, popular exhibits included a 26-foot replica of the St. Lawrence hydroelectric plant, a "Highway through New York" which provided information on New York's industry, and local artwork displayed throughout the state.
Sources
"World's Fair Pavilion." Road Trippers. Accessed Web, 7/6/17. https://roadtrippers.com/us/queens-ny/points-of-interest/worlds-fair-pavilion.

"The New York State Pavilion." National Trust for Historic Preservation. Accessed Web, 7/6/17. https://savingplaces.org/places/the-new-york-state-pavilion#.WV4hbFKZOt8.

Stamp, Elizabeth. "Get to Know Philip Johnson's Iconic Architecture." Architectural Digest. 5/12/16. Accessed Web, 7/6/17. http://www.architecturaldigest.com/gallery/philip-johnson-architecture-buildings.


Additional Information