Back Cove and Baxter Boulevard
Introduction
Back Cove is an important and often-visited estuary basin in northern Portland, Maine. The cove is particularly notable due to the large parkway and extensive hiking trails that encircle it. The parkway, now known as Baxter Boulevard after the mayor who ordered its construction, James Phinney Baxter, was once the main road for travelers heading North. It was designed in 1895 by the famous Olmstead Brothers and was opened for drivers starting in 1911. Many of the trees planted along the boulevard were planted as a part of a World War I memorial in 1921.
Images
Public Domain Photo of Back Cove, NASA October 20, 2003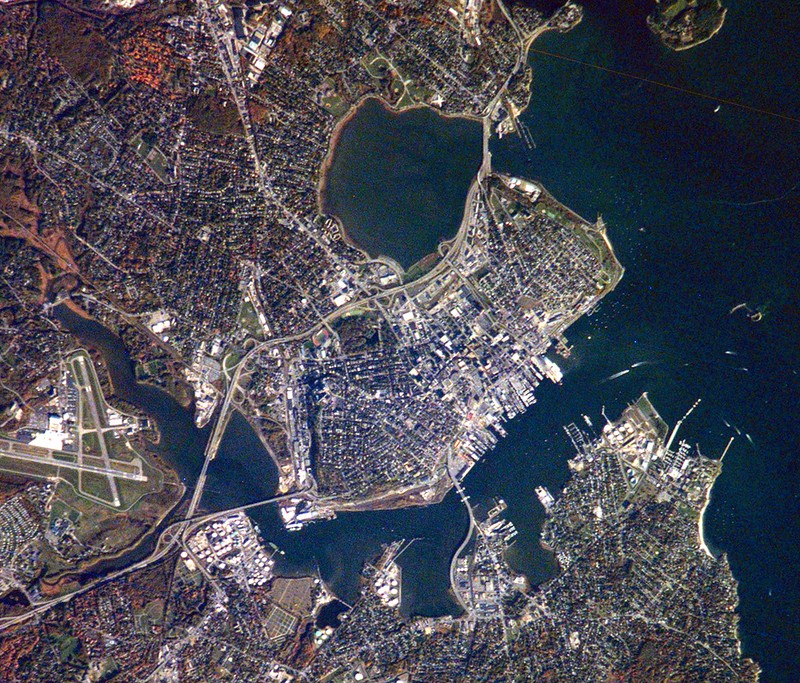 Backstory and Context
Baxter Boulevard, which runs around the perimeter of Back Cove, was named after influential Portland Mayor James Phinney Baxter. Born in Gorham, Maine on March 23 of 1831, James Phinney Baxter began his career as a Boston lawyer, but returned to Maine to become a successful businessman and, later, politician. Over the course of his life, he made many contributions to the growth and flourishing of the City of Portland and the State of Maine as a whole. His investments in local banks, ferries, and the Maine Central Railroad made him one of the wealthiest people in the City of Portland while supporting important infrastructure for the rural state. Throughout and beyond his time as mayor, Baxter was a scholar of local history and led the Maine Historical Society for over three decades. His personal library became a part of the Portland Public Library, and contains a number of unique maps, letters, and pieces of art.
During Baxter's time as Mayor of Portland, he was the driving force behind the construction of the road that would someday become Baxter Boulevard. Originally named Back Cove Boulevard, the road was installed to be both a source of utility and great beauty. Baxter recruited the talents of the famous architectural firm Olmsted, Olmsted and Eliot in the creation of the boulevard.
Olmsted, Olmsted and Eliot was the United States' first landscape architecture firm, run by the two sons of Founder Frederick Law Olmsted, John Charles Olmsted and Frederick Law Olmsted, Jr. The firm itself is historic enough, being in operation from 1858 until the year 2000, during which years it would undertake extensive design commissions for a number of the United States' most famous national parks as well as dozens of other notable civic projects. Many original city park layouts were designed by the Olmstead brother's firm, including parks in Seattle, Chicago, and New York City.
The Boulevard was accepted onto the National Register of Historic Places in 1989. A large hiking path encircles the cove, which is heavily used by locals and visitors alike. To this day, it is a destination for road-trippers seeking iconic Maine vistas with ties to the State's rich history.
Sources
Archived Filing for National Register of Historic Places. September 15, 1989. Accessed July 04, 2017. https://npgallery.nps.gov/pdfhost/docs/NRHP/Text/89001706.pdf. Source for dates and construction information

Olmsted Brothers. Wikipedia.org. Accessed July 04, 2017. https://en.wikipedia.org/wiki/Olmsted_Brothers. Meta-source for information on the Olmsted Brothers

Back Cove, Portland, Maine. Wikipedia.org. Accessed July 04, 2017. https://en.wikipedia.org/wiki/Back_Cove,_Portland,_Maine. Source of general information on the cove system

James Phinney Baxter. Maine Encyclopedia. Accessed July 04, 2017. http://maineanencyclopedia.com/james-phinney-baxter/. Encyclopedia article on the life of James Phinney Baxter


Additional Information