Fort Dearborn Hotel
Introduction
Built in 1914, the seventeen-story Fort Dearborn Hotel arrived when Chicago's population had reached two million. The immense population and economic boom resulted in many business travelers passing through, and the Fort Dearborn Hotel catered to those clients.
Images
By Smallbones (Own work) [Public domain], via Wikimedia Commons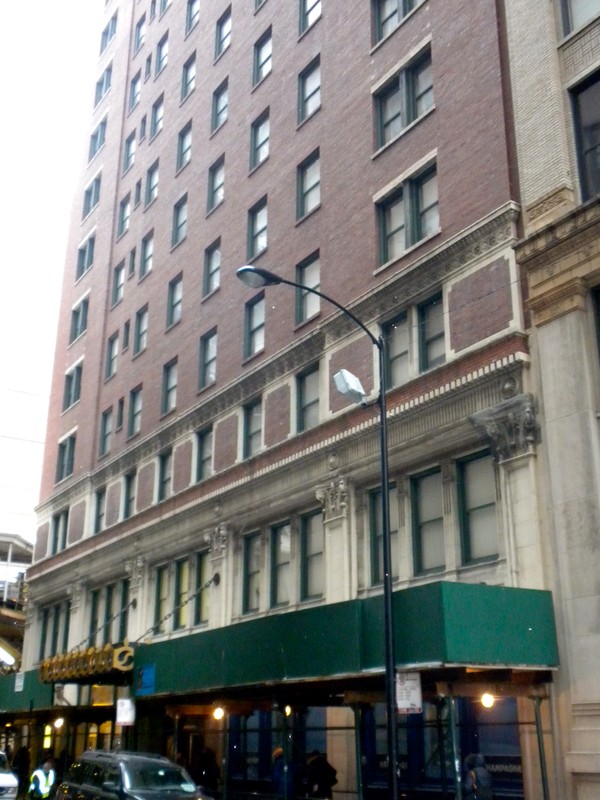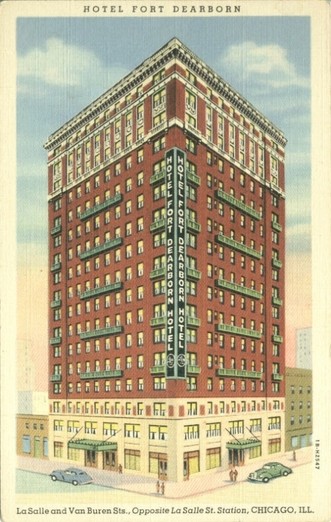 Backstory and Context
Built in 1914, the seventeen-story Fort Dearborn Hotel arrived when Chicago's population had reached two million, which was more than double its 1890 total. Immigrants, Migrants, and visitors arrived in the city via its thirty-four railroads that converged in Chicago. As a result, there existed a hotel-industry boom, notably in the South Loop in the era leading up to the Great War. The Fort Dearborn Hotel catered not to the most affluent nor the working class, but those in the middle; notably traveling salesman and men of business,
Fort Dearborn proved popular among salesman seeking to portray an image of success, but who did not need to spend money on (or could not afford) the lavish luxuries found in Chicago's most lavish hotels. Also, people in business enjoy the hotel's proximity to Chicago's garment district, financial district, printer's row, and Federal customs house.
Fort Dearborn enjoyed fireproof construction, writing rooms and a view of the lobby from the promenade, as well as modern (for the time) plumbing that consisted of a lavatory and a tap with ice water in every room. As well, the Fort Dearborn hotel provided clean, fresh air to its patrons with its innovative ventilation system. However, as mentioned, the hotel did not offer a ballroom or items intended for entertaining but instead offered salesmen use of "sample rooms" that allowed them an opportunity to display the products for which they were attempting to sell.
Chicago, by the dawn of the first world war, no longer existed as a city "on the rise," but had turned into a bonafide world-class city, and one for where one could access those coming from both the west and east coasts through Chicago. The city had many banks, numerous types of industries, and plenty of people ready to spend money. The Fort Dearborn hotel, almost designed exclusively for sales people, not only signified the economy of the era and Chicago's place within that system but laid the groundwork for such endeavors as the McCormick Place, which is the largest convention center in North America and located very near the Fort Dearborn Hotel.
Sources
Berger, Molly W. "Hotels." Encyclopedia of Chicago. Accessed July 3, 2017. http://encyclopedia.chicagohistory.org/pages/603.html

Kiriazis, Judith. "Nomination Form." National Register of Historic Places. July 7, 1982. https://archive.org/stream/NationalRegisterNominationsForChicago/FortDearbornHotelNrNom#page/n9/mode...




Additional Information