Ace Hotel Los Angeles (Formerly United Artists Building)
Introduction
Constructed in 1927, the Ace Hotel Los Angeles was originally known as the United Artists Building and was later known as the Texaco Building. The building itself is 243 ft (74 m) high and has 13-stories - it was the tallest building in the city for one year after its completion in 1927 and was the tallest privately owned structure in Los Angeles until 1956. Its style is Spanish Gothic, patterned after Segovia Cathedral in Segovia, Spain. It was constructed as the flagship theatre for the United Artists motion picture studio.
Images
A shot of the building as it stands today.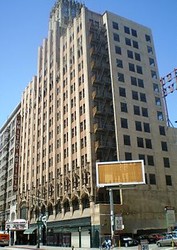 The Theatre today is part of the Ace Hotel.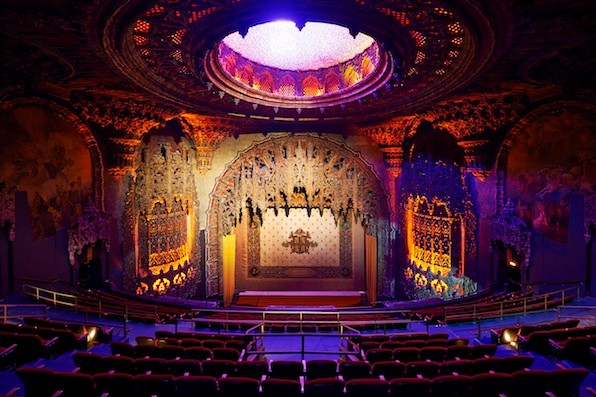 A Black and white shot of a queue forming down the street.
Backstory and Context
The original United Artists Theater was designed by architecture firm Walker & Eisen for United Artists, a film studio created by Charlie Chaplin, D.W. Griffith, Douglas Fairbanks and Mary Pickford. This classic movie palace was one of many that United Artists constructed, and it served as a house for major premieres. Today, the theater takes up the bottom three floors of the 13 storey building and has seats for 1600 people.
The building was leased by Gene Scott in 1989 as a location form which to broadcast his live Sunday services. The first was held in 1990 and he continued to hold them for the next fifteen years until his death in 2005. The building was claimed to house the largest collection of Bibles in private hands. After leasing for thirteen years, Gene Scott purchased the building in 2002. Following his death, services continued to be held at the Los Angeles University Cathedral by Melissa Scott, Gene's wife and widow.
Since then the building has been completely redeveloped into a luxury boutique hotel known as Ace Hotel Downtown Los Angeles. There are 182 rooms in the building as well as a pool, restaurant, and three bars. The United Artists Theater has been restored and still remains.
In December 2014, a month before the hotel opened, Greenfield Partners put the building up for sale, seeking about $100 million. Five months later in May 2015, Chesapeake Lodging Trust bought the building for $103 million.
Sources
O'Connor, Pauline. Inside the New Ace Hotel's Dazzling Old United Artists Theatre. LA Curbed. February 06, 2014. Accessed July 02, 2017. https://la.curbed.com/2014/2/6/10147196/inside-the-new-ace-hotels-dazzling-old-united-artists-theatre.

Theatre. Ace Hotel. Accessed July 02, 2017. http://www.acehotel.com/losangeles/theatre.

Hkam, Hso. Ace Hotel: A Brief History of the Gloriously Resurrected Historic Treasure. LA Weekly. April 26, 2016. Accessed July 02, 2017. http://www.laweekly.com/video/ace-hotel-a-brief-history-of-the-gloriously-resurrected-historic-treasure-Q1V9NezF.

Ace Hotel Downtown Los Angeles and The Theatre at Ace Hotel. LA Conservancy. Accessed July 02, 2017. https://www.laconservancy.org/locations/ace-hotel-downtown-los-angeles-and-theatre-ace-hotel.


Additional Information