Orpheum Theatre
Introduction
The Orpheum Theatre opened on February 15, 1926, as the fourth Los Angeles venue for the Orpheum vaudeville circuit. The Orpheum's Beaux Arts facade was designed by movie theatre architect G. Albert Lansburgh and has a Wurlitzer organ, that is one of three pipe organs remaining in Southern California venues. The Orpheum theatres are named after the Greek mythological figure, Orpheus. Soon after it was opened, it was a popular venue for burlesque queen Sally Rand, the Marx Brothers, Will Rogers, Judy Garland (singing with her family as Frances "Baby" Gumm) and comedian Jack Benny, as well as jazz greats Lena Horne, Ella Fitzgerald and Duke Ellington. Today, after a $4 million restoration in 2003, the Orpheum Theatre is a venue for live concerts, movie premieres and location shoots.
Images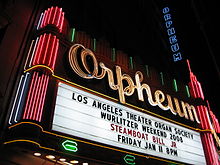 Backstory and Context
After opening in 1926, the Orpheum became the number one place to see Hollywood's biggest names, at a time when live variety shows reigned supreme. Stars like Lena Horne, Ella Fitzgerald, Sammy Davis Jr. and Judy Garland all performed there.
The Orpheum was fully designed by Los Angeles architect G. Albert Lansburgh, who also did The Wiltern, El Capitan Theater and The Shrine's interior. Following the 1900s French style of Beaux-Arts architecture, The Orpheum's design included grand marble staircases, shiny brass doors, opulent chandeliers, plush silk wall panels and an incredible attention to detail on the façade and sculpted ceiling.
Even as the century wore on and television became popular, people still came to the Orpheum. Musicians Aretha Franklin, Little Richard and Stevie Wonder performed there during their prime in the '60s. At the turn of the 21st Century, the Orpheum changed management, closed as a movie theatre and undertook $3 million worth of renovations. It opened a decade later as a performing arts center. Since then the Orpheum has hosted performances from Lady Gaga, Wilco, Ray Davies, Bob Hope, Maroon 5, Van Morrison, The Beach Boys and many more.
Sources
Orpheum Theatre. Cinema Treasures. Accessed July 02, 2017. http://cinematreasures.org/theaters/13.

History. LA Orpheum. Accessed July 02, 2017. http://laorpheum.com/history/.